Dar es Salaam teen turning the tide for autistic children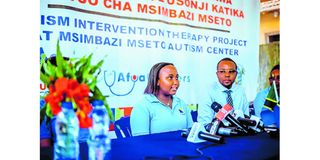 What you need to know:
When students in her class were asked to come up with project ideas as part of their practical training, 15-year-old Madeline Kimaro thought about autistic children.
Her project has raised Sh100 million, which will be used to help children with autism.
A Grade 10 (Form Four) student at the International School of Tanganyika, Madeleine Kimario, 15, has been making a huge difference in society, despite her tender age.
The teenager has used her school project to raise Sh100 million, which she has dedicated to supporting children with developmental conditions in the country. Kimario says she has always thought of doing something for autistic children.
"I have always wanted to help children who are suffering and who are being stigmatised by society or sometimes hidden by their parents for fear of isolation," she tells Success in an interview.
According to Kimario, when the time came for students at her school to come up with project ideas as part of their practical learning, the first thing she thought about was doing something that would touch the lives of children with autism.
"I had to ask my teacher if such an idea could go through, and I am grateful that the entire school management agreed and supported me in raising the money from different stakeholders," she says.
The youngster has done this at a time when there seems to be a wake-up call on autism awareness, although a cloud of uncertainty still hovers over the future of autistic children in Tanzania. Autism is a condition that affects a child's development and social skills.
According to Mayo Clinic, "Autism spectrum disorder is a condition related to brain development that impacts how a person perceives and socializes with others, causing problems in social interaction and communication. The disorder also includes limited and repetitive patterns of behaviour. The term "spectrum" in autism spectrum disorder refers to the wide range of symptoms and severity."
Autism is becoming more common in Tanzania, according to child health researchers.
According to experts, there is a critical shortage of basic clinical services, quality care, and adequate investment in teachers for children with special needs.
Kimario, as an activist for children with autism believes there is a pressing need to draw the attention of policymakers on the need to increase resources in screening and caring for the affected children.
"Education should be accessed by every child. As a country, we need to be able to screen every child and have teachers who have the ability to identify children with autistic disorders and treat them accordingly. I call upon other stakeholders to see this as a chance to touch the lives of these children," she suggests.
Autism spectrum disorder, according to Mayo Clinic "begins in early childhood and eventually causes problems functioning in society — socially, in school and at work, for example. Often children show symptoms of autism within the first year. A small number of children appear to develop normally in the first year, and then go through a period of regression between 18 and 24 months of age when they develop autism symptoms."
Everyone has a role to play
She notes that current challenges do not have to wait for adults alone to find solutions. She also believes that education should provide solutions at all stages.
Lukiza Autism Foundation (LuAF)
Having raised the amount, Kimario had to figure out where to put the money and reach out to her targeted group, children with autism. Kimario thought of the Lukiza Autism Foundation, which is where she donated the money.
The money will be used to cater for a one-year project in which students with autism will be provided with speech and occupational therapy.
According to the project implementers, the funds will initially support at least 15 students from the Msimbazi Mseto Autism Centre in Dar es Salaam's Ilala District.
Kimario says the project and the partnership with LuAF are part of her Grade 10 school project, which she started working on in August 2022.
"As part of my studies, I came up with the idea to help students with autism, and the first thing I did was to write a proposal, which I sent to different individuals, groups, and institutions with the help of my school, and that's how I got the money," she says.
The teenager notes that after raising the money, she decided to team up with LuAF, because she knew the foundation would use the donation to help those in need as she wished.
How the money will be used
The Founder and Executive Director of LuAF, Hilda Nkabe, says as part of their project, the money will be used to provide therapy throughout the year for the 15 students at the Msimbazi Mseto Autism Centre, their transportation to and from school, renovate the therapy rooms, and provide therapy equipment.
"The Autism Awareness Campaign and supporting autism intervention therapies are two of LuAF's objectives in its strategic plan. The collaboration fits in perfectly with Madeleine's project of giving back to the community by supporting autism intervention therapies and autism awareness, acceptance, and inclusion," Nkabe explains.
According to her, the one-year project launched on January 18, 2023, will start with the renovation of the therapy rooms and the procurement of therapy equipment followed by the provision of therapies in February.
A consultant in paediatric neurologist and senior lecturer at Muhimbili University of Health and Allied Sciences, Dr Edward Kija, says the intervention in autism therapies for students is significant.
The CEO of Afyacheckers Consultants, Dr Romana Malikusema, concurs, saying qualified therapists will be provided as planned and that progress reports will be provided periodically, as well as capacity building for the special needs teachers at the Msimbazi Mseto Autism Centre.
"The activities are very crucial for autistic students and will give them a sense of self-dependence," she says.
Mr Swalehe Msechu, Dar es Salaam Regional Special Needs Officer, thanks Kimario and LaUF on behalf of Msimbazi Mseto Autism Centre for raising such funds and choosing to support autism.
"Such measures encourage parents and communities to bring their children to school due to a friendly environment. It gives them hope that something will change through learning, reducing their children's dependency to a large extent," he says.
Msimbazi Mseto Autism Centre is the first autism centre in Tanzania under the government, which was established in 1998.
Msimbazi Mseto Primary School's teacher, Joyce Sanka is happy because the major challenge of transportation from home to school is now going to be solved and that the children will now access food during school time.
"We hope other stakeholders will come forward to help the children so they can study in a friendly environment," she says.