How a library on wheels is empowering rural children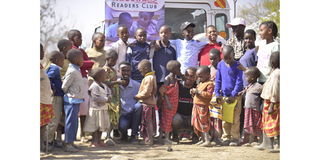 What you need to know:
While many children, including those in urban areas, have no idea what a library looks like, matters are worse in rural areas. A mobile library is therefore something to be thankful for and excited about
There are many areas in this country where it is hard to find a library. Some schools have special rooms that serve as libraries, but not many students get the opportunity to see the inside of these rooms, let alone read the books.
Based on this fact, a 24-year-old Arusha-based entrepreneur, Mike Kuley, who was in 2020 named one of the youngest directors in Tanzania under the Tanzania Youth Coalition 3rd Pan African Youth, decided to do something about it. He introduced a mobile library to empower children living in rural areas who don't have access to books. He did so through the Arusha Readers Club, which was founded in 2014 by the family of Mr and Mrs Laltaika.
A mobile library is usually a vehicle driven by an individual to far-off places to enable students get access to books outside their homes.
To make his mission a success, Mike has partnered with Nipe Kitabu Tanzania, which donates books to the mobile library. Nipe Kitabu, which is Swahili for give me a book, is an education initiative that collects and donates books to primary and secondary schools, as a way of promoting a reading culture. Nipe Kitabu focuses on ensuring every young individual in Africa can utilise the essential 21st century skills to embark on their missions in life.
Mrs Ruth Laltaika, whose family started the Arusha Readers Club was a teacher at Nainokanoka Primary School in Ngorongoro District, Arusha Region. After retiring in 2006, she chose to continue teaching children at her home, popularly known as 'Kwa bibi' (Grandma's place).
Children would go there to read books and have fun. Her love for children made it possible for the children to have access to story books.
After years of no progression at the club as was the case earlier, the Laltaika's, who at the time had other responsibilities that kept them busygave Mike a go ahead to run the club in 2020.
"I do remember taking the club when it didn't have a single member, and so I started from scratch with only 10 children, and the club has since been more vibrant than before," he says.
The readers club has been an education building that promotes a culture of reading, writing and creativity for children aged between 3 and 15.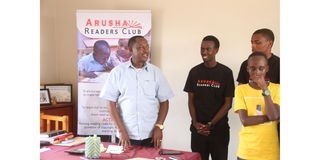 Apart from owning the club, Mike is the managing director of Ubunifu Initiative Limited, a firm that deals in coaching, training, mentorship, and leadership and management among others.
The innovative young man who has been involved in innovation and entrepreneurial activities in the area of renewable energy has participated in significant business plan competitions including ITEC (Innovative Technology Energy Centre) affiliated with the Nelson Mandela African Institution of Science and Technology NM-AIST, Arusha-Tanzania.
"The readers club has since spread its wings to other regions such as Dar es Salaam and Dodoma. In Dar es Salaam we held a digital skills session at the Assumpter Digital School, where we taught children about coding and programming, communication skills and public speaking," says Mike.
Arusha Readers Club is now home to 90 children and 12 coaches, who are the club members who recently finished primary school and are at home waiting for national examination results.
The idea of the moving library is to use its members as coaches, who narrate to fellow children the stories they have read and provide them with interesting information about the books.
Contributing to the community
"We came up with the idea to make our readers contribute to the community as young stars. We use them as ambassadors to the interior villages in the Maasai area, to share what they have gotten from the club sessions so they can inspire other children to grasp knowledge from books," explains Mike.
The moving library has been visiting different communities in rural areas and outside Arusha City to bring about change to children living in the rural areas.
"We have managed to visit different places, especially in rural areas, and encouraged children to read books. These areas include Maasai Bomas in Meserani Village, Meserani Education Centre, and Monduli Juu Orphans Project, all in the Arusha Region," shares Mike.
Despite reaching different rural areas, the readers club has been putting a lot of effort in the Maasai children after learning that the community has little motivation when it comes to reading books.
"Maasai communities are among societies that have low aspirations in reading books due to a lack of facilities and facilitators," he reiterates.
Arusha Readers Club and its programme of the moving library, exposes the children to the world of stories and fun moments that make them part of the global society.
One of the major challenges faced include the language barrier. Some children in rural areas don't speak both Swahili and English, but their native language.
"The children that we use as coaches are the ones who translate the stories in the books to the local languages," says Mike.
So far the programme has positively motivated the communities as they usually want the club to visit often.
One of the impacts made by the moving library is that it creates room for the children to meet new friends, enjoy good stories and get access to art and craft.
Also, it is a good way to make sure that children are not falling into the wrong peer groups that may lead them astray and ruin their future.
According to Mike, the Arusha Readers Club has had two major impacts on the children and the club itself.
"Those children who volunteer as coaches have had significant improvement in their confidence as a result of talking to fellow children. I am sure they will become great leaders," shares Mike.
He adds; "On the side of the Maasai children, most of them can confidently tell the stories we share with them, and our dream is to one day see a Maasai children's storybook."
Mike clarifies that going to the children with books offers the assurance that learning never stops. Today the club has become more advanced than before and it uses different approaches to reach children in different areas.
Hon Judge Eliamani Laltaika, the Judge of the High Court of Tanzania in Mtwara, who is the son of Mr and Mrs Laltaika is the Arusha Readers Club's mentor.
Judge Eliamani has been supporting the moving library's initiatives and has been connecting the readers club with different institutions to enable the club to reach as many communities as possible.
Mike explains that "Judge Dr Laltaika is the one who gave us the idea to start a mobile library and has continued to connect us with many people within educational institutions. He has been doing this to enable us to grow so we can motivate more children to read books and be creative."