Prime
Open communication crucial in solving children's challenges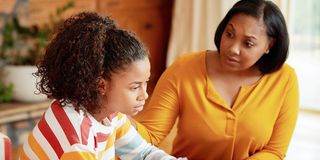 What you need to know:
Many children face a myriad of challenges both at home and at school and suffer silently because they are either too afraid to share or their parents are too busy to listen. Smart World highlights how this affects children and what they should do.
I was seven years old when my parents enrolled me in primary school in 2004. I had a hard time socialising with other children as I was teased by both young and older students because of my tiny frame.
I was constantly stressed and lacked confidence as a result of the bullying. I did not play with my classmates during break time, but I would instead turn to my two elder brothers, who attended the same school, for refuge.
Although I went through a hard time in school, it was quite hard to tell my parents because of the kind of lifestyle we lived at home. The only time I got to talk to my parents was in the morning before I left for school, in the afternoon during lunch, and in the evening when my father returmed home from work. We had kind of interview conversations where he used to ask me what I had learnt at school. This used to happen during dinner.
When my elder brothers went to boarding school nine years later, I was left alone and had to stand up for myself. I was 15 at the time and in Form Two. It was just me against the world and I had to stop the bullying.
I only shared the story with my parents when I visited them in Mara Region last month. They were sad and admitted they had no idea I went through all that.
In their daily lives, children face a lot of challenges both at home and at school but very few let their parents know what they are going through. Neither do some parents take the initiative to find out what is going on in their children's lives. The challenges range from academics to bullying, and abuse, and the list is long.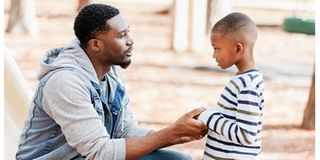 Seven-year-old Hashim Amir, a Standard Two pupil at Tandale Magharibi Primary School in Dar es Salaam, says he usually shares his challenges, and concerns with his parents. In February, Amir opened up to his father about his struggles with the English subject.
"I told him that I didn't understood anything that the English teacher taught and my father promised to get me a teacher to teach me at home."
The teacher taught him six days in a week and Hashim says the extra coaching has made a difference. He can now can write and speak the language much better. Hashim has since been practising speaking English with his father, and the improvement is clear.
"I used to fear trying to utter a single English word but my new teacher encouraged me to fear no one. He said the more I tried to speak the language, the more I would improve. And he was right."
The young boy says he feels free to share just anything with his father because he trusts him a lot and believes he can help him solve any challenge.
"I'm glad my father gives me the chance to express myself and helps me solve my challenges. I am not afraid to tell him anything because he encourages me to do so."
Hashim's father, Amir Hamduni, says growing up, his son had a habit of telling him everything that happened at home during his absence. This used to annoy him at times because he feared his son would turn out to be a liar.
"I warned him against the habit and told him boys don't say everything they see unless it is very important to share."
A neighbour who had heard him warn his son later told him that he shouldn't have done so. "He told me my child should feel free to share his worries and concerns with me and that doing so would help boost his confidence and make him feel free to share just anything. I realised my mistake and encouraged Hashim to always feel free to share just anything with me."
And the two have since been the best of friends.
Hashim's openness prompted his father to check if his sister, 11-year-old Amina, who is in Standard Five had a similar problem since the two go to the same school.
"I realised that his sister was facing the same problem. She didn't tell me because she thought I would think she was lazy. Now, I can see the progress. The two have improved a lot and they can exchange greetings and introduce themselves in English," says Amir. He thinks his daughter was not open because he hadn't given her the chance to share her concerns.
Ines Damas, 7, a Standard Three pupil at Uzuri Primary School, in Dar es Salaam, faces a similar problem. She fears telling her parents and other people about her problems.
"I'm not confident enough to share anything with teachers at school either," Ines says even when someone beats her during play, she never tells her parents unless they find out about it on their own.
Her mother, Eveline Damas, says Ines is a reserved child and whenever she wants to know about anything concerning her daughter, she usually does her own investigation before Ines confirms it.
"Even after finding out the truth, she usually hesitates to cooperate. She may prove that something had happened to her but will not tell the whole story."
"I have been encouraging her to open up and she says she would but never does unless I notice that something is wrong by myself."
Like Ines, ten-year-old Alex Charles, a pupil at Mapambano Primary School, says he has limits when it comes to sharing things with his parents.
Alex says, he only reports an illness and when he needs money for school-related needs such as buying exercise books, bus fare, and others.
He handles the rest himself. "All other challenges especially those to do with my academic performance, I try to solve them on my own or with my teachers. I don't share because challenges are inevitable, and I know my parents want me to be the best academically, which is what I am focusing on."
His father, Charles Alex confirms, saying his son rarely seeks help because he feels many of the challenges he faces are minor and that he can handle them on his own.
"I believe him because he performs very well in exams. He is a humble boy and doesn't involve himself with peer groups but uses his time to watch TV when he is not studying.
Annabelle Stanslaus, a psychologist, says parents should give their children the chance to express themselves because doing so would make it easier for parents to know their children's challenges and enable them to intervene.
"When a child tells a parent anything, a parent should listen carefully to understand what they are trying to say. Children are not good at hiding things, letting them speak might help you know what went right, what went wrong, and what their thoughts are on accomplishing various tasks."
According to her, letting a child be free to talk to you allows you to know their dreams. This also is an opportunity to know what they are going through. Anabelle advises parents to encourage children to open up, especially introverted children
She says parents should not wait for the children to come to them but should always make follow-ups on their children's lives.
According to experts, there are adults today who struggle with confidence issues as a result of the bullying they experienced in school, because they could didn't open up.
If you are facing any challenge at school or at home, don't hesitate to share with your parents, siblings, teachers, or any trusted friend or adult. They say a problem shared is a problem half solved.