The rise and rise of DJ Mamie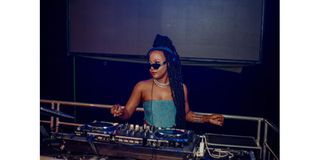 What you need to know:
Forget the old days of seeing men controlling the turntable. Female DJs are now dominating the industry with their vibe and, of course, gorgeous looks. Meet the rising DJ Mamie.
Forget the old days of seeing men controlling the turntable. Female DJs are now dominating the industry with their vibes and, of course, gorgeous looks.
I'm talking about stellar performances and fashion looks that will leave your tongue wagging.
Whether they are on a festival stage or mixing for a private party, their style is always top-notch.
You can see them with one headphone on their ear and one hand bopping up and down with a vibe.
If you haven't gotten the chance to meet any, allow me to introduce you to a 27-year-old Tanzania Music Awards 'Best Female DJ of the Year' winner, Mariam Lushita.
Mariam, better known by her stage name Dj Mamie, is unarguably one of the biggest names in the new generation of female DJs.
Even though you might not know much about switching, mixing, and cueing songs, when you attend one of her gigs, you can tell she's a genius on the wheel of steel.
She has significantly contributed to DJs being accepted on radio shows and also on television with her mixes.
DJ Mamie plays different kinds of music, but when the sound switches to Afrobeat, RnB, Amapiano, and House, she calls it her hippie vibe.
"I'm good at it because I always stay up to date with current music, which I usually search for from different record pools, online music sites, social media sites, podcasts, blogs, and even listening to other DJs," she says.
She adds, "I am always good because I engage with the audience mostly by asking them questions, soliciting requests, and telling them more about the playing track."
Born and raised in Mwanza, Tanzania, her passion for music started at a young age. She used to dance and sing all the way to the floor.
She studied at the University of Dar es Salaam, where she graduated with a bachelor's degree in political science and public administration.
According to Mamie, her dream of pursuing DJing as a career started to become possible after she met DJ AllyB when he was DJing at Maisha Club.
"After meeting him, I became very interested in what he was doing. DJ AllyB later announced his college for DJing; I approached him to get the chance, and from there everything aligned," she explains.
However, as she worked on her dreams at that stage, her parents didn't know anything about her desire or plans to become a DJ.
"My family is in Mwanza. I came to Dar es Salaam for my studies. So I decided to stay in Dar es Salaam to pursue my dream of becoming a DJ, and I did it," she says with contentment.
"I remember one day my father saw me on TV, and he was surprised because I didn't share with them what I was doing. But I'm happy that today, my father is my biggest supporter," she says.
While entertaining revelers at different concerts around the country, AJ Mamie's talent attracted an old-school Bongo hip-hop artist, Soggy Doggy.
She says that after finishing her gig, Soggy Doggy came to her and promised to set up a meeting with the founder and CEO of EFM radio and television.
"He told me that there is a friend of his who has a radio, and so he was going to put me in touch with him. That is how I met with Majizo, and he offered me a job," she shares.
In 2020, she received her first job at EFM, where she used to play full-time on radio shows.
On the radio, she usually made people bounce with her unpredictable music playlist, which had hypnotic power and waving energy as well.
"The feeling can't be explained; it actually feels so good. I usually just enjoy the fact that I play music and make people happy and dance. "It feels like I am taking them to a different planet where different people meet and connect with music," says Mamie.
She later moved to Wasafi FM after WCB CEO Diamond Platnumz shared her videos on his Instagram account, where the superstar is seen performing with Harmonize. This was before the latter quit the record label.
Her fame and popularity started to pave the way for Mamie to grow. She started performing at big concerts and shows.
Those concerts include Mziki Mnene, the Wasafi Festival, Congo Goma, the Amani Festival, Rwanda with Lady Jaydee, and the Comoros concert with Zuchu.
Her playlists, music choice, vibe, and hyping style have made fans beg for more sessions, whether she played on radio stations or at concerts.
The moment when she mixes and the crowd responds to every move she makes and she's able to gain their attention and trust has become one of the biggest rewards since becoming a DJ.
Mamie also believes that, to gain respect as a DJ, a lot of creativity, rhythm, and technical skills are required.
"Being where I am today is not easy; you need to understand music structure, be able to perform in every kind of situation, know your DJ equipment, socialize with different kinds of people, and be able to market yourself as a DJ," she explains.
On March 8, 2023, at the Serena Hotel, Mamie was announced as the best female DJ of the year at The Orange Awards.
She also became the first female DJ to receive the title of 'Best Female DJ of the Year" after the category was introduced in the Tanzania Music Awards 2022 (TMA).
After her win, through her Instagram account, she wrote that "There is much to celebrate as a human being on this third planet, but the greatest joy is seeing everything you have been seeing in your dreams come true. It is a great honor that I have received."
Apart from mixing and scratching, today's DJs are now producing their own original songs and collaborating with big names in the music industry.
According to Mamie, one of her future dreams is to feature her boss, Diamond Platnumz, in one of her upcoming works.
"Diamond Platnumz is the most successful music artist; he has managed to expand his market in and outside Tanzania. He is a role model for many people. Who wouldn't want to work with him?" she questions.
She further adds that she's still on a learning curve and will help others achieve their dreams.
Despite her success, she still has her eyes on bigger goals. "I'm looking at travelling to different countries and expanding my name as a female DJ. I also want to inspire others and give back to the community," she says with a smile.