Advertisement
A mother's love for her daughter
Saturday December 26 2020
We ought to applaud and celebrate the voices of bold women breaking barriers - and echo the efforts of those who are doing so while uplifting their peers and shaping the future of the next generation of women.
Mwamvita Makamba, a pan-Africanist female leader - but, most importantly: a mother - recently added the title of 'author' to her credentials. She is charting a new path in her life: one which should leave a footprint for posterity.
Mwamvita embarked on a journey less travelled by many mothers who also happen to be corporate women: writing a book detailing their parental journey.
On December 19, 2020, she launched 'Things I tell My Daughter.' This is a book which she describes as an early gift to her daughter - and all parents.
They say that raising a son is difficult; but raising a daughter is even more daunting. Parents around the world can attest to this. But, Mwamvita reminded us all that it is the little things that count when it comes to a mother/daughter relationship.
Unveiling of the book featured an intimate affair with close family, friends and a few supporters: Mwamvita's own support system.
Her brother, January Makamba the politician, was more than glad to take us down Memory Lane with tales of how they grew up in a household with parents who had contrasting parental traits.
"My sister was raised by a mother who provided her with tough love - and a father who embraced her with a soft parental touch," he said.
Regarding 'Things I Tell My Daughter', January revealed his skepticism when the idea of the book was first brought to his attention. But, he said it was after reading it - and digesting the text therein - that he understood its profound importance and potential impact.
"Mwamvita made me understand the importance of the simple words we tell our children, words such as 'I love you'. It is these words that create a bond between a parent and a child," he said.
Mwamvita, a product of tough and soft love from her parents, has learnt the essential role of a mother.
What has been highlighted in the book are the close ties between a parent and a daughter. Mwamvita wrote the book not only to profess her love for her own, but to also contribute in dismantling the negative patriarchy system.
Mwamvita and her 14-year old daughter Malaika Gray share an admirable bond. "The best part about my mum is her heart: she is very kind. She works hard - and this inspires me," Malaika said in front of an intently listening audience.
She went on to say that her mother is selfless almost to a fault. "She gives so much of herself to others that she forgets about herself," added Malaika.
Mwamvita, while embracing all the praise coming from her daughter, took a moment to remind everyone what a precious gift it is being a mother. "Giving birth to someone, knowing that their bones are growing inside you, is quite an honour - and, despite the different challenges - I embrace motherhood. I wrote this book not only as a gift to my daughter, but as a useful tool to all mothers. I have not graduated from motherhood, I am still - and will always be - a mother. Writing this book doesn't make me an expert in parenting; but, what is contained herein is part of what I know," she said.
Woman Magazine had a cordial conversation with Mwamvita at her residence in Mikocheni. We delved further into motherhood - but also touched on lateral subjects of the girlchild, the gender situation in Tanzania, women and technology, and her domestic life.
"I have worked hard to get where I am," Mwamvita says, adding that she still works hard to give her daughter the life she deserves.
Many parents struggle to connect with their daughters, especially when they reach their teen years. But, at 14, Malaika is closer to her mother than ever. Mwamvita attributes this to the openness she shares with her daughter.
"My daughter is very expressive and, sometimes, it can get awkward. But, I am grateful for her openness, and I have learnt to handle it with no reaction that could put her off," the mother says.
One of Mwamvita's parental observations and concerns is seeing so many young girls exposed to the social media. "There is so much uncensored content online. Being impressionable, young girls tend to imitate what they see," she says.
She calls upon parents to be aware of online distractions and intervene early before their children become lost in the merriments of the digital world. "As parents, we need to take control of this and teach our kids that they need to believe in working hard and not chasing clout ," she says, cementing it with a quote from her book: 'It's not about looks, it's the heart and the head.'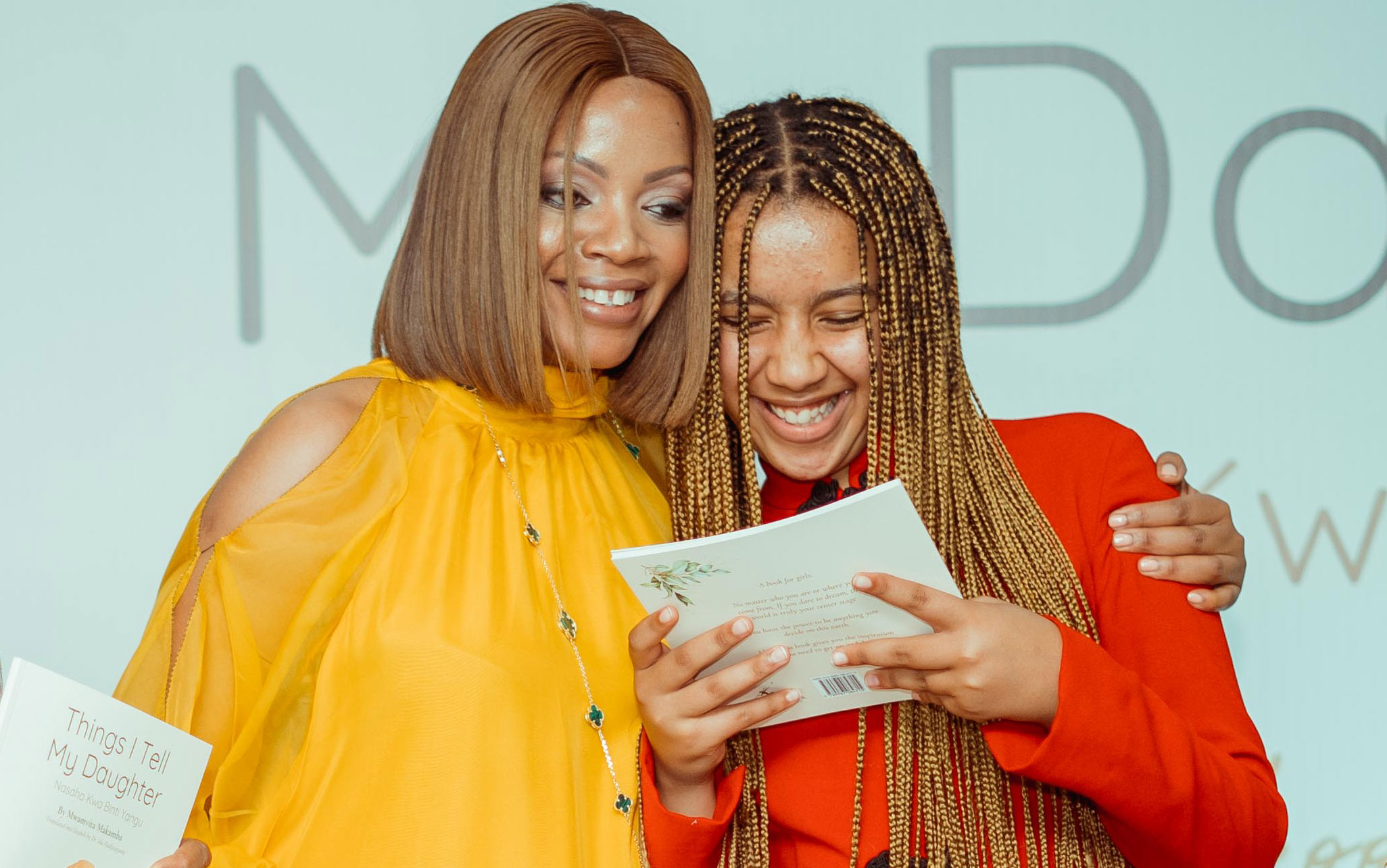 Outside motherhood, Mwamvita has a strong passion for technology - and how girls in Tanzania can get involved in this field. "Technology accelerates development. It reduces paperwork and speeds up the work process," she says, adding that she would be excited to see young girls in Africa and Tanzania coming up with solutions for African problems.
Mwamvita augmented the importance of family unity as a strong pillar for a girlchild. This, coupled with humility, are precursors to successful upbringing and owning one's destiny, she opines.
She says she is living testimony of being an author of her own life. She also points out that she grew up in a family that encouraged hard work, self-effacement and service to others - and insists that solutions to many problems in society (and the strongest pillar for a girlchild and women at large) lie in the family.
Mwamvita would love for her book to be available to each and every child. So, she is working with different organizations to ensure this happens. She also revealed that if she had a son, she would definitely write a book on him, too.
Malaika - having been brought up in an exemplary household - wishes to see less sexism and more girlchild empowerment in Tanzania, and across Africa at large.
She says girls should be given an opportunity to freely voice their opinions.