Prime
Juggling parenthood and studies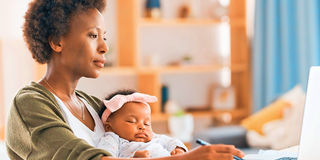 What you need to know:
Students who had babies while in college share the challenges they faced while balancing the demands of both studies and parenthood. Their hope is that their experiences will serve as valuable lessons for others facing similar circumstances
It's not uncommon to find students with babies in higher learning institutions.
The majority get pregnant while at college, which is mostly a result of the freedom they have as college students.
How do they juggle study and motherhood?
"It's not easy," says 22-year-old Prisca*, a mother of a four-month-old baby in her second year at a university in Dar es Salaam. Prisca no longer goes out to have fun with friends like she used to before she became a mother.
"My focus is managing time between studies and taking care of the baby," she shares.
Prisca was living on campus when she joined university, but she later rented a room off campus. She used to go home on weekends to spend time with her family.
This changed after she got pregnant as she didn't want her family to find out. She told them at eight months because she knew she needed their help.
Prisca is grateful that her baby daddy has been taking care of her and the baby, and so she doesn't solely depend on the students' loans board money for meals and accommodation (popularly known as boom among students) to cater to her and the baby's needs.
"I use both the boom and financial support from my baby daddy to take care of myself and the baby. My family also helps me in one way or another."
Her family takes care of the baby while she goes to college. For now, she is focusing on her studies and taking care of her baby, and she hasn't given marriage a thought. "I just want to focus on studies and raising my baby; the rest will take care of itself."
Aisha*, 22,  a third-year student at another university in the city, wasn't lucky enough to even inform her one-year old daughter's father that she was pregnant.
As she contemplated telling him about the pregnancy, Aisha received the sad news of his death. He had committed suicide. The two had met after high school as Aisha prepared to join university.
She was confused when she found out she was pregnant because she wasn't sure how her family and her boyfriend would react to the news.
For her, an abortion was not an option. Her late boyfriend was going through a difficult time and died before Aisha could even share the pregnancy news with him.
"I was stressed the weeks following his death, after which I started experiencing morning sickness. I had to tell my mother the truth, although she didn't believe me because of my polite nature."
Aisha's mother was hurt when she confirmed her daughter was three months pregnant. With shock and panic written on her face, she asked who the father was. "I told her it was the boy who had committed suicide since I had told her about him before, although she had no idea he was my boyfriend."
Aisha says her mother felt sorry for her and advised her to be strong, promising to help her all the way. Her father was equally hurt since he had high hopes for his first-born child, whom he expected to be a good example to her siblings. However, with time, he accepted the situation and has since been supportive.
"Frankly speaking, it's not easy balancing studies and motherhood. It's not easy to concentrate on studies at home while having to breastfeed the baby from time to time. At college, the breasts get overly full with milk, making studying uncomfortable."
To fellow girls out there: "Do not mix studies and motherhood, as they both need energy and focus. Many university students don't have another source of income apart from loans board allowance money, so you shouldn't mess up by becoming parents in university."
Aisha says being a mother is time-consuming, and taking care of a baby requires one to be focused. "One should wait for the right time to be a parent. Wait until you are able to take care of yourself and the baby."
Male students are not spared. Hashim*, 25, a third-year student at Dar es Salaam Institute of Technology, became a father when he was in his first year. He is a father because his girlfriend wasn't ready for an abortion.
"The parenting journey hasn't been easy. The loans board allowance is my major source of income. I also work as a labourer at construction sites during my spare time to support my girlfriend and our baby," says Hashim.
 "You need to be financially stable to have a family. The money I spend on the baby and its mother could have been used for self-development projects as I am still working on my future."
Hashim hasn't told his family he has a child. Sometimes he thinks perhaps the burden would have been easier if they knew. He won't tell them until he is financially stable.
Like any other student, he had goals to achieve when he joined college, but being a father has affected both his lifestyle and goals. "My lifestyle has changed as I have to work at every opportunity I get to balance my financial needs. This affects my studies for the course I am taking requires great focus and concentration."
He advises young people to focus on their goals and that they should only have babies if they are ready for the responsibility.
"If you must have sex, use protection to avoid unplanned pregnancy and sexually transmitted diseases. Young people should abstain from sex and wait until later, when they are ready."
Kalungu Charles, a psychologist at Psychezone International, says being pregnant in college leads to stress and depression, as the young parents start thinking about how to handle their studies and the babies.
He says apart from being disowned by their families, girls who get pregnant out of wedlock may also experience postpartum challenges because they need to adapt to a new lifestyle as mothers.
"They will have to adopt a new way of living to handle both a baby and studies, which to some extent will makethem lose focus on studies as the ability to learn decreases," says the psychologist.
He advises parents to accept their daughters when they get pregnant and help them cope with the new life while focusing on their studies.
"I call on parents to talk with their children about sex.  They should let the children know the consequences of engaging in sex early. Youngsters should be told to wait for the right time to have a family."
The psychologist says young people must understand that being in university is not an opportunity to try everything, like marriage or family; hence, they should have goals and work hard towards achieving them. He says everything should have limits, and that they should avoid negative peer pressure."