Nigeria local elections open in shadow of contested vote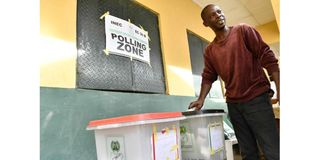 Summary
Africa's most populous nation is electing hundreds of state assembly lawmakers and over two dozens governors, with a particularly competitive contest in the nation's economic nerve centre, Lagos
Lagos. Nigerians were voting in local elections Saturday, just weeks after the ruling party won a presidential poll that the two main opposition parties alleged was marred by fraud.
Africa's most populous nation is electing hundreds of state assembly lawmakers and over two dozens governors, with a particularly competitive contest in the nation's economic nerve centre, Lagos.
Governors are powerful positions in Nigeria, with some controlling state budgets that are larger than those of several African nations.
Polling units were to be open from 8:30 am (0730 GMT) and close by 2:30 pm (1330 GMT) though delays are frequent and voters in line before closing time should be still be able to vote.
After last month's presidential poll, which was largely peaceful but marked by long delays and technical failures, some voters and opposition parties claimed the mishaps allowed for ballot manipulation.
The electoral commission has rejected claims of rigging but the experience could impact Saturday's vote.
On Lagos's wealthy Ikoyi island, polling units were set up early on Saturday, giving some residents hope for a hitch-free day.
"We hope this election will be one of the better elections," said Sukiman Abubakar, a 52 year-old estate surveyor.
On the mainland, heavy security was deployed with armoured vehicles seen by an AFP reporter at Iyana-Ipaaja and Abulegba, areas prone to violence.
'Politicians have failed us'
As electoral material arrived at Ijaiye, in the Agbado area, around 50 voters were already forming a queue hours early.
One of them was Fausat Balogun, a 46-year-old trader who was eager to cast a ballot.
"I have been here since 6 am (0500 GMT) to vote for the candidates of my choice. We need fresh blood in Lagos. The old politicians have failed us," he said.
While the megacity of some 20 million people is considered the fiefdom of president-elect Bola Tinubu of the All Progressives Congress (APC), outsider Peter Obi of the Labour Party (LP) caused a stir by winning most votes on February 25.
But whether Obi's popularity and the emergence of a third strong party in Nigeria will translate at the governorship and local assembly levels, especially in Lagos where its former governor Tinubu is influential, remains to be seen.
The Lagos race pits incumbent Babajide Sanwo-Olu (APC) against Gbadebo Rhodes-Vivour (LP) and the main opposition's candidate Olajide Adediran of the Peoples Democratic Party (PDP)
Other hotly contested races are expected in southern Rivers and northern Kano, while northeast Adamawa could see the election of Nigeria's first woman governor.
A decisive factor in Saturday's vote will be turnout -- with many disappointed in how last month's election was conducted, some voters could decide to stay at home.
With President Muhammadu Buhari stepping down in May after two terms, Nigerians had hoped a fair vote would usher in a leader capable of tackling growing insecurity and deepening poverty.
Both the LP and the PDP are contesting the February 25 election in a legal battle that could extend over several months.