Sudan army suspends truce talks with paramilitary foes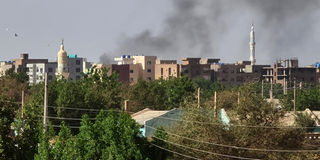 The Sudanese army has suspended its participation in US- and Saudi-brokered ceasefire talks with its paramilitary foes, a government official told AFP on Wednesday.
The army took the decision "because the rebels have never implemented a single one of the provisions of a short-term ceasefire which required their withdrawal from hospitals and residential buildings, and have repeatedly violated the truce", the Sudanese official said, speaking on condition of anonymity.
US and Saudi mediators said late Monday that the army and the paramilitary Rapid Support Forces (RSF) had agreed to extend by five days a humanitarian truce they had frequently violated over the previous week.
But despite their pledges, fighting flared again on Tuesday both in greater Khartoum and in the flashpoint western region of Darfur.
"The army is ready to fight until victory," army chief Abdel Fattah al-Burhan declared during a visit to troops in the capital Tuesday.
The RSF, led by Burhan's deputy-turned-foe Mohamed Hamdan Daglo, said they will "exercise their right to defend themselves" and accused the army of violating the truce.
Since fighting erupted between the rival security forces on April 15, more than 1,800 people have been killed, according to the Armed Conflict Location and Event Data Project.
The United Nations says more than a million people have been internally displaced and nearly 350,000 have fled abroad, including over 170,000 to Egypt.
More than half the population -- 25 million people -- are now in need of aid and protection, the UN says.
Entire districts of Khartoum no longer have running water, electricity is only available for a few hours a week, and three quarters of hospitals in combat zones are out of service.
Sudan could descend into "total civil war", warned the Forces for Freedom and Change, the main civilian bloc ousted from power by Burhan and Daglo in a 2021 coup before the two men fell out.