Twin blasts rock Mogadishu as Somali President Sheikh Mohamud meets security officials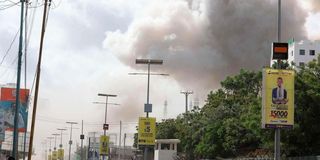 Two huge car bombs rocked Somalia's education ministry in the capital Mogadishu on Saturday, causing casualties and shattering windows of nearby buildings, police and witnesses said.
The explosions happened as President Hassan Sheikh Mohamud met with officials to discuss security issues in the capital.
The Ministry of Education office is located near Zoppe Road junction, the same scene of the biggest blast in the Somali capital that left more than 1,000 people injured in October 2017, killing more than 570 others.
Witnesses said that gunmen entered the compound and started firing.
Somali police said a vehicle loaded with explosives was driven into the Ministry of Education compound and followed by gunfire.
While the first big bang was heard at the beginning of the assault, the second explosion occurred inside the compound that is adjacent to the busy Maka-al-Mukarrama Avenue.
The area has many business premises including kiosks used by women who sell khat, the stimulant also known as Miraa.
 Although nobody has claimed responsibility for the attack, such attacks are always claimed by the Al-Qaeda-linked Al-Shabaab group