DCB cements mid-sized status with soaring assets, profit rise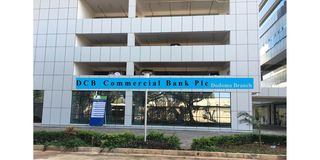 Summary
The bank, which is listed on the Dar es Salaam Stock Exchange (DSE), registered a profit before tax of Sh2.25 billion in 2022
Dar es Salaam. DCB Commercial Bank Plc has cemented its mid-sized position in the banking sector with a steady growth of its balance sheet and an increase in profits, its financial report shows.
The bank, which is listed on the Dar es Salaam Stock Exchange (DSE), registered a profit before tax of Sh2.25 billion in 2022, according to the recently released financial results.
This was an increase of 112 per cent compared to a profit before tax of Sh1.06 billion for the year 2021.
A close look at the financial results shows that the profit growth emanated from a four per cent rise in interest income and a 45 per cent increase in non-funded income.
It registered Sh10.4 billion in non-funded income in 2022, from Sh7.2 billion in 2021 while the interest income soared to Sh28.61 billion from Sh27.62 billion in 2021.
"The bank grew its non-funded income during the year, focusing on trade financing activities, foreign exchange business, and increased transactional fees due to the enhanced features and increased usage of digital banking platforms," said DCB Acting Chief Financial Officer (CFO), Siriaki Surumbu.
The balance sheet has grown by 61 per cent over the past five years, financial results show.
Its asset size crossed the Sh200 billion mark to reach Sh214 billion last year from Sh133 billion in 2018.
Financial results further show that the bank registered growth across all the other performance parameters, including in loans, advances and overdrafts and in customer deposits among others.
"During the year under review, the bank celebrated several awards. They include the Consumer Choice Awards Africa to emerge winner in the Most Preferred Bank in Customer Service and the Best Presented Financial Statements Award NBAA, in the mid-sized bank chapter. This was the fifth successive win, said DCB Managing Director Mr Isidori Msaki.