Cereals board targets EAC, Sadc countries with new milling plant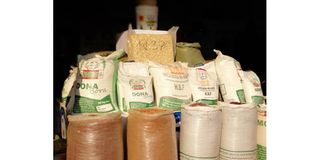 What you need to know:
The existing milling plant was commissioned in 1976 to process between 50 and 55 tonnes of maize flour daily, but its current capacity is 45 tonnes a day, which is not enough to meet growing demand
Iringa. The Cereals and Other Produces Board (CPB) is set to install a milling and packaging plant in Iringa Region as part of efforts to meet the growing demand for maize flour in the southern regions and the neighbouring countries.
In effect, the state-run agency targets countries in both the Southern African Development Community (Sadc) and the East African Community (EAC).
"CPB head office is working round the clock to purchase and install an ultra-modern technology plant to supplement the yet well-functioning plant whose installed capacity does not match the ever-growing customer demand from both within Tanzania and in the Sadc and EAC states," said CPB zonal manager for the southern highlands, Dr Jaspa Samuel.
The board has a plant in operation that was commissioned in 1976 to process between 50 and 55 tonnes of maize a day, but its current capacity is about 45 tonnes of maize flour.
"This production capacity does not at all serve CPB and the nation well; hence, the solution is to add a new production line. We are reliably sure that the new plant will facilitate national efforts to see Tanzania become a net exporter of foodstuffs," he added.
The board, which buys crops directly from farmers, has also called upon interested grain buyers to serve as agents at the village level in the six regions that form the CPB southern highlands food basket Zone. The regions are namely: Iringa, Mbeya, Songwe, Rukwa, Ruvuma and Njombe.
Dr Samuel said the partnership with private operators aims to bypass greedy and unethical middlemen who exploit smallholders.
He was of the view that partnering with private buyers will serve CPB better in terms of both spreading its network closer to peasants and commercial farmers and providing them with a reliable market and price for their produce.
The government's motive in setting up the CPB was to both offer a fair and reliable market for peasants and commercial farmers for their agro-produce and to process, package and sell it to Tanzanians at affordable prices.