EAC exports to Africa soar to $7.9 billion in 2021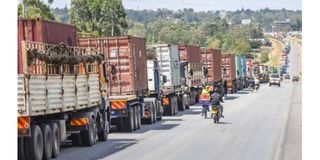 Summary
Top EAC exports to Africa included precious stones, coffee, tea, cement, animal fats, mineral oils and iron and steel.
Arusha. Exports from the East African Community (EAC) bloc to Africa soared to $7.9 billion in 2021 in spite of Covid-19 impact.
They comprised 42 percent share of the region's total exports of goods to the world which was $18.7 billion during the period.
Top EAC exports to Africa included precious stones, coffee, tea, cement, animal fats, mineral oils and iron and steel.
This was revealed in Kigali, Rwanda last week during a private sector sensitisation workshop on African Continental Free Trade Area (AfCFTA).
It was organised by the East African Business Council (EABC), an apex body of private sector associations in collaboration with GIZ, a German aid agency.
Speaking during the event, EABC executive director John Bosco Kalisa said intra-Africa goods exports reached $82.2 billion in 2019.
He urged South Sudan to ratify the AfCFTA agreement like the rest of the partner states; Tanzania, Uganda, Kenya, Burundi, Rwanda and DR Congo. The sensitisation workshop brought together 30 businesses in Rwanda who learnt about AfCFTA trade-in-goods protocol and its annexes.
These are, among others, the Rules of Origin, Tariff Concession and the implications of non-tariff barriers (NTBs) in the EAC bloc.
Mr Kalisa was categorical that the private sector players were the main implementers of the continental trade pact.
Governments, he explained, have been tasked to facilitate trade and investments by putting in place a conducive environment.
"EAC bloc has great potential to export vegetables, tea, rice, coffee, sugar, textile products, soap, sesame, seeds, edible oils, tubers and milk to the continent," he pointed out. AfCFTA agreement envisages to boost intra-African trade through gradual elimination of over 90 percent tariffs on goods, removal of NTBs and other trade restrictions.
This is according to EABC vice chair, Mr. Denis Karera who urged the private sector players in Rwanda to increase their capacity on AfCFTA "and take the leading role in the AfCFTA agenda".
Antoine Kajangwe, a senior trade official in Rwanda's Trade and Industry ministry, said import duties (tariffs) under AfCFTA will be reduced progressively to zero by 2025 to 90 percent of the nearly 6,000 products.
Rwanda started trading under AfCFTA with the first shipment of 'Igere Coffee', its premium coffee, to Ghana in September 2022 under the AfCFTA Guided Trade Initiative.
He challenged other private stakeholders to understand the challenges his country went through before it successfully penetrated the Ghana market.
Rwanda, he said, has already done studies on the market access competitiveness on prioritized sectors under AfCFTA and plans are underway for the private sector stakeholders to validate the findings of the studies.
It is anticipated that the studies will guide the Rwandan private sector in penetrating other markets in Africa deemed to have great potential such as DR Congo and Cote D' Ivoire.
He added that although manufacturing and agro processing are perceived to be less competitive under AfCFTA they can be "very competitive" if fully exploited due to economies of scale.
"Let's take advantage of the market of the 1.2 billion people with a combined Gross Domestic Product valued at USD3.4 trillion which will be created by AfCFTA" Kajangwe said.