NMB support a boon for agricultural sector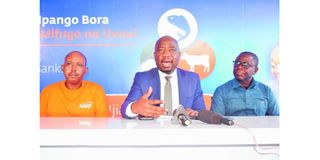 Summary
NMB Bank head of retail banking, Mr Filbert Mponzi said the loan is part of the bank's efforts to align with the government's agenda on agriculture to expand economic activities in the agriculture sector and ensure food security
Dar es Salaam. NMB Bank has committed Sh20 billion in loans to support the development of agriculture, reaffirming the bank's resolve to unlock the sector's potential.
NMB Bank head of retail banking, Mr Filbert Mponzi said the loan is part of the bank's efforts to align with the government's agenda on agriculture to expand economic activities in the agriculture sector and ensure food security.
"As a development partner, we understand the contribution of agriculture to our national development, and that is why we have been collaborating with the Ministry of Agriculture to ensure realization of the 10/30 agenda," he said in Dodoma after the launch of the government's Building Better Tomorrow (BBT) programme which seeks to promote Tanzanian youth engagement in agribusiness.
"It's our belief that our efforts will help in building a competitive and inclusive agriculture sector that is characterised by improved efficiency, enhanced diversity, and improved incomes," Mr Mponzi said.
"I take this opportunity to call upon youths and women to embrace opportunities in the Sh20 billion loans set aside by the bank to invest in the agriculture sector. We have already provided financial literacy to over 800 BBT programme beneficiaries and we shall continue working closely with the ministry to bring more youths on board," he added.
The Agriculture minister Hussein Bashe said during the launch of the BBT programme that his ministry had already engaged various banks operating in Tanzania to come up with a "matching fund" to support the ministry's efforts geared towards revitalising and unlocking the agriculture sector. "I am glad to announce that I have already received a letter of commitment for the Sh20 billion that has been set aside by NMB Bank as its matching fund to support this scheme and we will continue collaborating with the bank," Mr Bashe said.
"Historically, many block farms collapsed because of a lack of ownership since many were viewed as public entities and those engaged did it for leisure, not business. Moving forward, all block farms have to have a sense of ownership and responsibility," he added.
On cashew nuts, Mr Bashe noted that, with effect from the 2026/2027 financial year, the country's cashew nuts will not be sold in raw form.
"We have already made a pilot project, and we have so far secured 1,000 hectares in Nanyamba district, where we will build a facility to process 300,000 tonnes per year. Our efforts will ensure the value addition of our cashew nuts," Mr Bashe said.
The government's aim is to achieve more than 10 percent growth in the agriculture sector by 2030.