Above-the-ground installations for Uganda-Tanzania oil pipeline take shape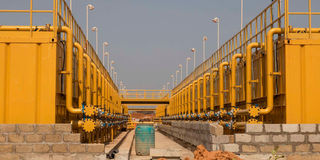 What you need to know:
This comes as the project enters the crucial final 24 months - the construction of the pipeline, which is expected to cost $5 billion.
The main contractor of the 900-mile the East African Crude Oil Pipeline (Eacop) from Hoima in western Uganda to Tanzania's Tanga port, has also started civil works, with above-ground installations in both countries.
This comes as the project enters the crucial final 24 months - the construction of the pipeline, which is expected to cost $5 billion.
Last week, Pearl Engineering Ltd, a subcontractor for early civil works and ground preparation, handed over one of the sites that will accommodate main camp pipe yard and pump station one in Hoima District, Uganda, to the pipeline main contractor China Petroleum Pipeline Engineering Ltd (CPP).
"We are handing over this site to CPP to start works at pump station one. Then I leave to work on another site in Tanzania near Singida.
Our target is to achieve completion by December 2025," said Ahmed Arafatalifranji, Construction Lead for above ground installations (AGI) at Pearl Engineering.
Arafatalifranji was briefing journalists at the first main camp and pipe yard (MCPY) and site for pump station one, at Kabaale, in Hoima District.
This week, CPP started works for construction of the first of Eacop's two pump stations in Uganda, while the other four are in Tanzania, each of which will hold a 40-tonne facility that pump and maintain the flow of the low-sulphur Ugandan crude in a 24-inch heated pipeline, powered by a mix of grid hydro and solar.
The pipeline will consume 20MW of grid hydropower for the 296km in Uganda, while the longer stretch (1,147km) of the infrastructure that lies in Tanzania will use 60MW of solar energy, to power four pumping stations, two pressure reduction stations as well as the marine terminal and jetty at Tanga.
"All these installations and facilities will be subjected to hydrostatic testing, which is a big component of the safety of this pipeline," says Lawrence Ssempagi, the Eacop Project Compliance Lead.
After years of postponement, it remains to be seen if Eacop is finally out of the woods. For instance, while works on all above ground installations are gathering pace, works on the main facility – the 1,443km buried pipeline – are yet to start as the line pipes are yet to arrive at the main camps and pipeyards to enable teams to trench and string them, as is ongoing upstream at Kingfisher and Tilenga projects.
The upstream projects and Eacop are meant to be developed simultaneously, and project developers are getting edgy over the pipeline's pace, fearing more delays – technical, operational and financial – that could impact completion of the project and the delivery of first oil on schedule.
Last month, Ernest Rubondo, the Executive Director of the Petroleum Authority of Uganda led a delegation to Beijing, to verify and validate Eacop and Kingfisher Development project activities in China, to ensure they were in tandem with Uganda's accelerated timelines.
The team visited the Panyu Chu Kong (PCK) Steel Pipe Company Ltd., mill in Lianyungang as part of a verification and validation visit to the Kingfisher Development and Eacop project activities in China, ahead of accelerated timelines for Uganda's oil projects.
PCK, the firm contracted to supply line pipes to Eacop, gave assurances that the first batch of 100 kilometres of pipes are complete and in the process of being delivered to Tanga port in Tanzania.
"We are committed to ensuring timely delivery and high-quality pipes," said Xie Leshan, PCK president.
However, Uganda Energy Minister Ruth Nankabirwa told Parliament recently that the thermal insulation plant in Nzenga, Tanzania, the facility that will coat and foam the line pipes before they are transported to site for laying – is 95 percent complete.
"Government in January 2023 issued a permit to the Eacop Company to construct the pipeline. The progress for detailed design for the Eacop pipeline and attendant facilities being undertaken by Worley in London and Dar el Salaam stands at 66 percent," she said.
On the sidelines of the Africa Energy Week in Cape Town last month, Ms Nankabirwa also hinted on the slow pace to reach the project's financial close as a concern, as Chinese lender Sinosure, which is co-financing Eacop's debt component, was not moving at the same pace as that of the project developers.
She explained that said Sinosure had suggested that it would only announce its final decision on the project by June next year, potentially too late, as it is understood that Eacop civil works are currently running on the equity financing from the shareholders – TotalEnergies, CNOOC, Uganda and Tanzania.
"We need just about $3 billion to conclude the financing of this crude pipeline and the more we delay, the more expensive the project will become," she told Reuters.
Ms Nankabirwa says Uganda's oil projects have suffered delays and shifted delivery timelines due to activists' campaigns that have fiercely de-campaigned Eacop.