Afro-pop duo Navy Kenzo drop a new album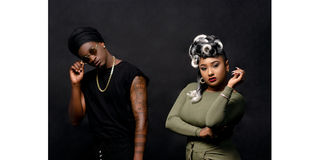 Summary
The album features a mix of genres, including dancehall, pop, R&B, reggae, and afrobeat
Music duo and celebrity power couple Navy Kenzo have released a new album dubbed "Most People Want This".
The album talks about life desires, detailing the things people go through in order to attain what they want.
The Tanzanian afro-pop and dance duo consisting of Aika, a female singer and rapper, and Nahreel, a singer and major award-winning producer, dropped the new project on Thursday this week.
Navy Kenzo's new album, "Most People Want This", is the latest in their musical evolution.
It is an ambitious project, drawing on their experiences from the past few years of making music, touring, and collaborating with artists from around the world.
The album features a mix of genres, including dancehall, pop, R&B, reggae, and afrobeat.
It features collaborations with some of the biggest names in music, including Fireboy DML and Empire.
The album is sure to be an instant classic with its infectious hooks and dynamic production.
This is Navy Kenzo's third album, after 2017's AIM (Above In a Minute), and 2020's Story of the African Mob.