Inside bodaboda crime syndicates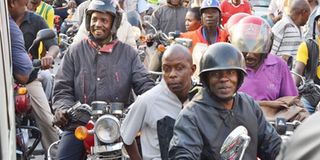 What you need to know:
The upsurge of this form of crime is so big that residents fear it could turn some parts of the country, Dar es Salaam in particular, into a den of dangerous killers if the boda boda business is not streamlined to weed out the criminal elements.

Dar es Salaam. Organised motorcycle gangs operating in Dar es Salaam and elsewhere in the country are behind the surge of high-profile crime, including murder and armed robberies that have in recent months became a source of terror to the masses, we can report.
The upsurge of this form of crime is so big that residents fear it could turn some parts of the country, Dar es Salaam in particular, into a den of dangerous killers if the boda boda business is not streamlined to weed out the criminal elements.
Motorcyclists who could pass for any boda boda operator currently at every corner of the major urban centres, have shot dead victims in cold blood, snatched handbags from unsuspecting women and even carried out acid attacks using the same means.
Concerned members of the public now want authorities to urgently intervene to save them and their properties from the marauding criminal gangs.
A month long investigation by The Citizen on Sunday revealed that some foreigners were involved in marshalling notorious motorbike-gangs responsible for a series of criminal activities.
The foreigners, largely Burundians, are reportedly running a criminal enterprise linked to many incidents of attacks on suspects riding the motor bikes not necessarily used for the daily passenger shuttling.
Police reports indicate that these criminals have infiltrated the market and recruited accomplices, especially security guards at institution such as banks and bureau de change outlets or ATM centres to stake out for anyone moving substantial amounts of money.
Police commanders for Kinondoni, Temeke and Ilala regions have admitted soaring of Boda boda crime incidents but blamed the wave to a number of factors, include traffic congestion and reluctance by some businessmen to observe money safety regulations.
Statistics on crimes involving boda boda-hit men in Dar es Salaam alone indicate that between January and July this year, police in Kinondoni region arrested at least 44 men and two women who belonged to at least seven different motorbike criminal networks.
Among those arrested beginning this June were a Burundian whose two other countrymen escaped the police dragnet. Three pistols and at least six motorcycles used by the criminals were seized by the police.
The Kinondoni police say the gang linked to the Burundian suspects was noted to be targeting mostly Chinese traders. A Toyota Noah vehicle in the gang's possession was linked to some of the attacks on the Chinese.
The discovery of this group helped the police the same month to unearth another criminal syndicate with suspects operating within several other circles that targeted bank customers.
"The problem is really serious. Had we not been doing some extra job, the situation could have been even worse," says Kinondoni Regional Police Commander, Camilius Wambura.
He said special operations are paying off as more and more arrests are made. "We are recording more motorbike crimes today than ever that we have been forced to put in a lot of energy and resources to fight it," he said.
He adds: "We are working round the clock to gather intelligence on inside workings of these criminals. It is finally paying off. We have seized many motorcycles and firearms used by criminals," he said.
His counterpart in Ilala, Ms Marietha Minangi, told The Citizen on Sunday that her region was facing an uphill task to confront the criminals.
Between June and mid this month, the region has recorded about nine high-profile crimes, including recent reported murders in the city involving motorcycle riders.
Ms Minangi said the boda boda robbers easily penetrate and mingle with the crowds and disappear. According to Minangi, plans are underway to ban motorcycles operating for commercial purposes from accessing the central business district.
The police have already met Surface and Marine Transport Regulatory Authority (Sumatra) authorities to review strategies, including designating stands for riders, registers and put special marks on all genuine boda bodas.
A source has confided that that Ilala municipal council has identified at least four wards where commercial motorcycle will not be allowed to operate from.
For those who will be licensed to carry passengers, special strips will be painted on the motorcycles to correspond to particular regions, as applies to motor vehicle taxis. "Colours for each district are being chosen," said the source.
In Temeke, the crime appears to take a somewhat different face as boda boda operators are themselves a target of criminals.
Crime reports there indicate that about 159 motorcycles worth Sh430million were stolen in Chang'ombe police district between January and July this year.
Only 15 were recovered while 28 people were arrested over the thefts.
In about 99 incidents, the robbers posed as passengers and hired motorcycles, only to end up robbing the riders.
In 38 incidents, motorcyclists were actually invaded by armed robbers and brutally robbed of their machines.
The Citizen on Sunday has established that , the theft of motorcycles, particularly Fekon and SanLG makes, is fuelled by high demand of their engines which are used in fishing boats in Lakes Victoria and Nyasa, as well as the Indian Ocean port towns of Lindi and Mtwara.
Temeke regional Police Commander, Assistant Commissioner of Police Engerbert Kiondo, wants the public to work closely with the police to tame the wave of crime.