Ukrainian military says 17 Russian drones destroyed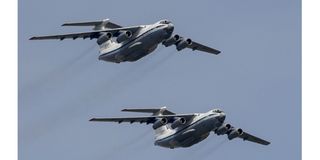 The Ukrainian air force said Thursday that air defences destroyed 17 out of 22 Russian drones launched overnight.
The air force said on Telegram that the attacks came from three different origins over five and a half hours.
It said the Iranian-made Shahed unmanned aerial vehicles were launched in the direction of the Mykolaiv, Zaporizhzhia, Dnipropetrovsk and Sumy regions.
"According to the results of combat operations this night, 17 out of 22 enemy attack 'Shahed-136/131' UAVs were destroyed by anti-aircraft defence," it said.
It did not say whether the drones caused any damage or casualties, nor where they were destroyed.
Since pulling out of a UN-brokered deal allowing safe grain shipments via the Black Sea, Russia has ramped up attacks on Ukraine's grain-exporting infrastructure in the southern Odesa and Mykolaiv regions in recent months.
NATO member Romania has stepped up the surveillance and security of its airspace following repeated Russian attacks on Ukrainian ports and infrastructure along the Danube river, which forms the border between the two countries.
Fragments of Russian-style drones have been found on Romanian territory for a third time, NATO said Wednesday.