Aga Khan building resilience in East Africa's education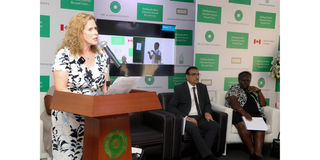 Summary
Driven by the reality experienced during the Covid-19 pandemic and Ebola in Uganda, the institution conducted a study and came up with appropriate ways that can be used by ministries of education to deal with such shocks
Dar es Salaam. Aga Khan University's Institute for Educational Development, East Africa, has brought together education ministries of Tanzania, Kenya and Uganda to deliberate on ways to build strong education systems that will overcome unprecedented disasters such as Covid-19 and Ebola.
Driven by the reality experienced during the Covid-19 pandemic and Ebola in Uganda, the institution conducted a study and came up with appropriate ways that can be used by ministries of education to deal with such shocks.
Yesterday, more than 150 education delegates from the three East African countries met in Dar es Salaam for a three-day joint conference where various publications will be presented and discussed, including the importance of resilient systems during this period when the world is faced with disasters.
The head of research at the Aga Khan University (AKU) Prof Fredrick Mtenzi briefed reporters that the education delivery system was disrupted to a large extent following the Covid-19 pandemic, which caused the sector to shake in various countries including Tanzania.
Through the project; Building Resilience Education Systems beyond Crises, which is also the main agenda of the meeting, Prof Mtenzi said their research has revealed that teachers in colleges need to be empowered so they may be able to maneuver during shocks.
"We are meeting as education stakeholders to look at how we will start building education systems that can withstand such disasters because they can repeat themselves or occur in a different manner," he said.
He stated that the strategy will be implemented by training teachers to use ICT tools to ensure that education does not halt due to obstacles.
The project that will be implemented in the three countries under the Aga Khan Foundation, in collaboration with the Canadian government, aims to develop sustainable education systems.
Dr Margret Matonya, Tanzania's director of special education in the Ministry of Education, Science and Technology, admitted that during Covid-19, many students were sidelined while those with special needs were more affected due to the initiatives put in place, including programmes on television and radio.
"The Ministry of Education has already started strengthening the sector by improving teachers' training to include courses on ICT.
The review of the education policy, the act, and curriculum improvements aim at enabling the sector to withstand all the challenges.
"During the pandemic we discovered that many visually and hearing impaired students were left far behind," she said.