Air Tanzania fails to land at Bukoba Airport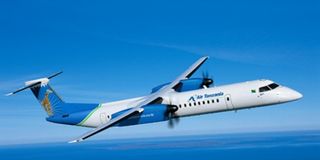 Summary
The pilot of the national carrier's Bombardier plane diverted the flight to Mwanza Airport, where all passengers were offloaded safely
Dar es Salaam. Air Tanzania Company Limited (ATCL) plane on Thursday, November 17, failed to land at Bukoba Airport due to bad weather, the Tanzania Civil Aviation Authority (TCAA) confirmed.
The pilot of the national carrier's Bombardier plane diverted the flight to Mwanza Airport, where all passengers were offloaded safely, and the plane had to leave for Dar es Salaam to proceed with other schedules.
When contacted through a phone call, the TCAA Director General, Mr Hamza Johari, confirmed the incident, saying that for safety reasons the aircraft was forced to divert to Mwanza Airport.
"It is true that I have received information that the Air Tanzania plane failed to land due to bad weather; there was fog, rain, thunder, and darkness, and the airport was not visible, so the pilot canceled the route and returned to Mwanza and landed safely," he said.
Earlier, through her Twitter account, Special Seats Member of Parliament Neema Lugangira, who was among the passengers, recounted the incident.
"Still shaken, but God is good. I boarded a plane this morning for Bukoba. The journey was challenging; we have arrived but the plane failed to land," she wrote, in reference to the plane landing in Mwanza.
"I congratulate the pilot for making the right decision to return to Mwanza, and now I am returning to Dar. The government should take seriously the issue of the new Bukoba airport," she adds in her post.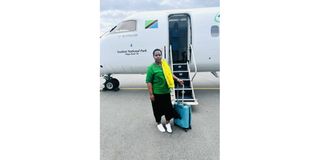 The incident occurred 11 days after the Precision Air plane crashed into Lake Victoria, killing 19 people and rescuing 26 others.
However, after the incident, the government, through TCAA, assured passengers that the Bukoba Airport is safe for landing.
The TCAA's remarks came amid complaints from various stakeholders in the aviation industry, including pilots and flight engineers, who mentioned the Bukoba among airports that give them trouble during landing and takeoff.
They said the struggle is due to the constant change of weather that occurs, as well as the presence of mountains in those areas.