Bukoba report: We need to act now, say experts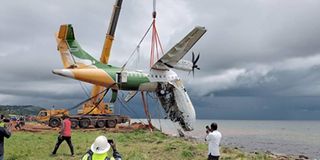 What you need to know:
After the Air Accident Investigation Branch revealed a comedy of errors, with the first official rescue vessel arriving at the scene five hours after the crash and divers having no oxygen, experts say response to disasters should no longer be taken lightly
Dar es Salaam. Tanzania should act as a matter of urgency to strengthen its search and rescue units in order to save lives after accidents, aviation experts said yesterday.
They spoke after the Air Accident Investigation Branch said in a report that more passengers could have survived the accident that involved a Precision Air in Bukoba earlier in the month had emergency workers been prepared and rescue operations launched swiftly.
Nineteen people died when the plane with 43 people on board crashed into Lake Victoria on November 6 Fishermen in canoes were the first people at the scene, and they played a key role in rescuing the 24 people who survived the crash.
The Air Accident Investigation Branch, which is under the Works and Transport ministry, said in its air accident bulletin released on Tuesday evening that the capacity of first responders at airports and water bodies should be built further.
"In addition, there should be well-structured and coordinated aviation and marine search and rescue operations," the report says, noting that official search operations were delayed, and rescuers who arrived at the scene were ill-equipped.
According to the report, there was a fire station in Bukoba which was equipped with one fire engine and manned by ten firemen, who were trained to carry out rescue operations on land.
The firemen were not equipped for offshore operations which were required after the plane crashed into the lake.
The police marine unit was notified 15 minutes after the crash, but arrived at the scene five hours later as its sole rescue boat was elsewhere on patrol when the accident occurred.
The boat arrived at the scene at 1.49pm, but divers were unable immediately launch a search and rescue operation because they lacked oxygen, and the vessel did not have enough fuel.
Aviation expert Juma Fimbo told The Citizen that what happened in the aftermath of the Precision Air crash brought back memories of the 1996 sinking in Lake Victoria of the MV Bukoba in which at least 1,000 people died.
The the team that investigated the accident came up with recommendations that were similar to what the Air Accident Investigation Branch had proposed in its report, he added.
"We are late. We needed to act yesterday, but we should at least act today, and not wait until tomorrow," Mr Fimbo said. 
He added, however, that Tanzania needed help to improve its search and rescue capacity since a significant sum was required to be invested in equipment, training and field exercises.
Mr Fimbo said countries sharing Lake Victoria should come up with a collaborative emergency response programme.
"We need to join forces and mobilise resources. If each country continues to go it alone, we will get nowhere."
Tanzania Air Operators Association (Taoa) executive secretary Lathifa Sykes said Tanzania needed to learn from the MV Bukoba mistakes.
"We need to act now. This is not the first time serious accidents have happened," she told The Citizen. 
"However, this should not be left to the government alone. Involvement of the private sector is equally important."
Ms Sykes said Taoa was ready to sit with the government through the Tanzania Civil Aviation Authority (TCAA) and discuss how disaster response could be improved.
Efforts to reach the Works and Transport ministry and TCAA for comment were unsuccessful.
TCAA Consumer Consultative Council (TCAA CCC) executive secretary Innocent Kyara said the government should be proactive in implementing investigators' recommendations.
"Our focus should be more on investing in prevention of disasters than preparedness," he said.
Aviation expert Philemon Kisamo said, "We need to equip rescuers with capability to carry out rescue operations successfully, especially where airport runways are close to water bodies."
Another aviation expert, Mr John Chambo, said strengthening of search and rescue units should go hand in hand with adherence to professionalism in the aviation sector.
"An accident is a series of events. We need to be very professional to avoid human errors," he said.
Investigators said the cause of the crash was still being investigated, "but the possibility of wind shear (downdraft) cannot be ruled out".