Emmanuel Tutuba appointed Bank of Tanzania Governor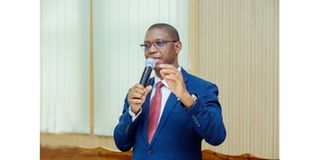 Summary
Apart from Prof Florens Luoga others who have served in that capacity include,  Beno Ndulu (2008-2018), Daudi Balali (1998-2008), Idris M Rashid (1993-1998), Gilman Rutihinda(1989-1993), Charles Nyirabu (1974-1989), and Edwin Mtei (1966 -1974)
President Samia Suluhu Hassan has on Saturday, January 7, appointed Emmanuel Mpawe Tutuba  Bank of Tanzania Governor.
Mr Tutuba replaces Prof Florens Luoga whose tour of duty has come to an end.
His appointments takes immediate effect in a week that has seen some high profiles officer change dockets and others sacked.
Prior to the new appointment Mr Tutuba was the Permanent Secretary in the Ministry of Finance and Planning.
Tutuba becomes the eighth governor to take charge of BOT, since 1966 Bank of Tanzania has had Seven Governors and 11 deputy governors.
Apart from Prof Florens Luoga others who have served in that capacity include, Beno Ndulu (2008-2018), Daudi Balali (1998-2008), Idris M Rashid (1993-1998), Gilman Rutihinda(1989-1993), Charles Nyirabu (1974-1989), and Edwin Mtei (1966 -1974)
President Samia has also appointed Dr Natu El-Maamry Mwamba as the PS in the Ministry of Finance and Planning.
Dr Natu El-Maamry a lecturer at the University of Dar es Salaam was also the board chair of the Kilimanjaro Airport Development Company (Kadco) prior to her appointment.
In 2011, she became the first woman to serve in the Board of Directors of the central Bank of Tanzania (BoT) as Deputy Governor . 
By the time she was appointed to join the BoT board, Dr Mwamba was a faculty member at the University of Dar es Salaam who had already worked at the central bank for seven years on monetary policy and audit committees.
Shortly after, she joined the board of directors at BoT, Dr Mwamba was appointed by President Jakaya Kikwete (2005-2015) as BoT's first female Deputy Governor overseeing the economic and financial policies portfolio.