Girls forge risky relationships to afford sanitary products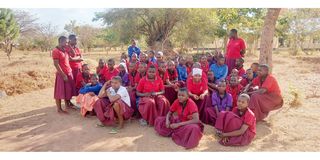 Dar es Salaam. Sitting on a bench outside the pharmacy section, Catherine Njau is still contemplating what the doctor has just advised her.
The Form III student at one of secondary schools in Iringa Region has just found out that she is two months pregnant.
The smart and ambitious girl had harboured dreams of one day becoming a nurse, but now her dreams seemed distant. The situation she had gone through presents the harsh reality many schoolgirls face.
Her family of six children, supported singlehandedly by her mother following the death of her father, is poor.
Her mother did not have enough money to afford her basic needs, let alone to pay for her education.
One of the biggest challenges Catherine faced was her inability to afford sanitary pads, a necessity that many take for granted.
She has for many years used old rags that her mother had taught her once she became mature.
But such sanitary towels became a challenge to her health and dignity. Without them, attending school became a monthly struggle, and she often had to miss classes during her period. It was a heartbreaking situation for Catherine, who knew that education was her ticket to a better future.
Desperation led Catherine down a difficult path. She confided in her best friend, Amina, about her struggles. Amina, who had been dating a young man named Isaac, came up with an idea. She suggested that Catherine enter into a secret relationship with Isaac, who was known to be well-off.
Reluctantly, Catherine agreed, seeing it as a way to obtain the financial support she needed to afford menstrual products and other necessities.
She began dating Isaac in secrecy, using the money provided by her new 'friend' to buy sanitary pads. She started attending school regularly. Catherine felt torn between her dreams of education and the secret she was keeping.
Months passed, and Catherine's secret relationship continued. She excelled in her studies, and her dream of becoming a nurse seemed attainable once again.
However, that future was cut short when, one day, during a school inspection, she was discovered  to be pregnant.
Her journey, like that of most girls in the country, explains the importance of education and the need for joint efforts to break the cycle of poverty.
In a heart-wrenching reflection of the challenges facing young girls in underserved communities, some are being driven to engage in risky relationships to afford basic necessities such as sanitary pads.
This distressing trend shines a harsh light on the critical issue of menstrual hygiene and economic disparity.
The latest Tanzania's Controller and Auditor General (CAG) report shows at least 42,954 schoolgirls dropped out of school due to pregnancies between July 2021 and June 2022.
According to the 2021–2022 CAG report, out of the 42,954 impregnated schoolgirls, 23,009 were from secondary schools and 19,945 were from primary schools.
The report says, the pregnant schoolgirls came from 19 different local government agencies across the nation.
It also points out that secondary schools that had the highest number of impregnated schoolgirls were in Kinondoni Municipality in Dar es Salaam Region with 4,652 girls.
Kinondoni is followed by Newala District Council in Mtwara Region with 3,783 girls, and Misungwi District Council in Mwanza Region with 2,570 girls.
"For primary schools, Kwimba District Council in Mwanza Region had the highest number of impregnated schoolgirls during the period under review, with 9,045 girls, followed by Uvinza District Council in Kigoma Region with 2,172 girls," reads the CAG report.
Across the globe, the right to manage menstruation with dignity is a fundamental one. However, in many communities, girls from impoverished backgrounds are forced to confront the harsh choice of forgoing sanitary pads or resorting to desperate solutions to obtain them.
"Just like smartphones, most girls here in Zanzibar are not provided sanitary pads or even money for them by their parents. When you speak to them, they will tell you the money for pads comes from the boyfriends, or sponsors as they call them," said Nasra Diwani, a community health worker in Paje, Zanzibar.
Ms Diwani says during their sessions in schools, they would advise female students to depend on their parents for basic needs.
"Some say that their parents, mostly single parents, depend on them (students) financially," added Ms Diwani.
One might wonder how sanitary pads, a basic hygiene product, could lead to such dire circumstances. The answer lies in the stark realities of economic inequality. For many girls and their families living on the margins, purchasing sanitary pads is a huge financial burden. This situation is further exacerbated by a lack of access to proper menstrual hygiene education and affordable hygiene products.
Faced the distressing outcomes of missed school days and the shame associated with improper menstrual management, some girls resort to engaging in exploitative relationships to obtain money.
This exposes them to physical, emotional, and psychological harm, perpetuating a cycle of vulnerability and inequality.
"In our many sessions, girls would approach us and tell us not to talk them out of relationships as their partners provide for them and their families," explained Executive Director at Tai Tanzania, Ian Tarimo, on his part.
He and his organisation create awareness about menstrual health in schools in Dar es Salaam, Morogoro, Iringa, and Zanzibar, among other places, through animated storytelling.
Advocates for girls' rights and gender equality have long called for urgent action to address this crisis.
"It's crucial that communities, governments, and non-governmental organisations come together to ensure that girls have access to affordable and safe menstrual hygiene products," commented a health and environment teacher at Chunyu Primary School in Dodoma, Joyve Msigwa.
All emphasised comprehensive education on menstruation and sexual reproductive health as part of the solution.
The government has embarked on a multifaceted approach to ensure the well-being of girls and women during their menstrual cycles in an effort to address the critical issue of safe menstruation,
"Safe menstruation entails creating an environment that offers access to private toilets, clean water, safe menstrual products, and proper disposal methods, while unsafe menstruation is often linked to poor infrastructure, inadequate water supply, unsafe menstrual devices, and improper disposal practices," says assistant director in the Health ministry (environmental health and sanitation), Khalid Massa.
The government, through the Health ministry, launched the Menstrual Health and Hygiene (MHH) Coalition, a collaborative platform that includes representatives from government agencies, international organisations, NGOs, and civil organisations.
The coalition organises events, such as concerts and conferences, to collect and distribute menstrual products to girls. Additionally, it conducts community education initiatives to raise awareness about safe menstruation and encourage the production of affordable menstrual pads.
The Health and the Education ministries have developed various policy documents, including the Strategy for Water and Sanitation Services in Schools, Safe Menstruation Education Guidelines, and the National Strategy for Accelerating Sanitation and Hygiene for All (2020–2025).
"The government has also directed that 10 percent of the administration's funds from the Capitation Funds Guide be allocated to purchasing menstrual towels for female students in schools," said Dr Massa.
He added that the government intends to draft a National Safe Menstruation Guide, a comprehensive guide that outlines strategies for improvement in areas such as investment, education, and infrastructure development.
"This guide will also emphasise inclusivity, ensuring that people with disabilities are considered," he said.
The government also intends to launch a national fudrising campaign dubbed "My Pad, My Health."
Dt. Massa said the campaign will be launched to raise funds for menstrual towels, ensuring their availability and distribution to all adolescent female students in primary and secondary schools across the country.
Every girl's future and well-being depend on our collective action to end this crisis and provide them with the opportunities and dignity they rightfully deserve.
Supported by Bill & Melinda Gates Foundation