How solar power is positively lighting life in rural Tanzania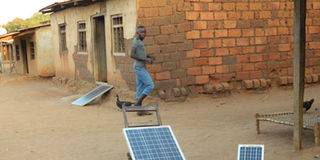 Summary
As the time was approaching 7pm, the bulb light enables Telesia to prepare dinner for her family. There is no electricity from the national grid in this village of Namikango A in Nachingwea District but in every three out four houses there is one or more bulbs lighting the houses both inside and outside.

Lindi. In a remote village in Lindi Region, a lighting fluorescent bulb hangs from roof poles in a grass-thatched house of Telesia Daniel.
As the time was approaching 7pm, the bulb light enables Telesia to prepare dinner for her family. There is no electricity from the national grid in this village of Namikango A in Nachingwea District but in every three out four houses there is one or more bulbs lighting the houses both inside and outside.
"We have a small solar panel fixed on the roof that enables us to light two bulbs and charge our mobile phones," says Telesia.
Though she looks like an average village woman, Telesia knows all the technical specifications of the solar panel they possess and the two bulbs they use. One bulb lights the seating room and another outside.
"You can't see now our 10 watts panel from here. You'll have to look closely to see it fixed at the top. We have two three-watts bulbs, a solar charged battery and a phone charger that we use with my husband," she says wearing a broad smile.
For a visitor travelling along the Nachingwea-Liwale Road, it is easy to spot the "solar village" as most of the houses here have solar panels fixed on roof tops.
For the villagers who fear the security of their gadgets they always bring out the solar panels during the day time for charging the batteries and take them inside in the evening.
Villagers here embrace solar energy not just because it provides them with light and help charge their electronic gadgets at home but because it is also cost effective.
Abdallah Omar, 30, says it is cheaper to use solar for lighting compared to using a paraffin lamp because of the difference in the cost of operation.
"If you are using paraffin lamp you are required to buy kerosene worth at least Sh3,000 per month meaning that you should have a budget of not less than Sh36,000 a year.
"But you can buy a small solar panel and its accessories for between Sh40,000 and Sh70,000 and use it for many years without having monthly charges," says Omar, a father of one.
Besides, Omar says, paraffin lamps issue a lot of smoke. They are not health. This is not the same with solar energy. It is clean.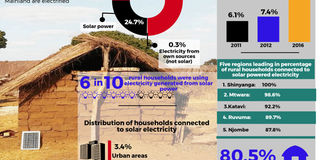 Apart from domestic use other villages use solar power to generate cash by doing small businesses like running a barber shop and charging mobile phones of people who are on transit and the batteries of their gadgets are low.
Hamza Mtauka who owns a shop at Namikango B says he provides electricity driven services like charging mobile phones which all boost his income.
He has installed a bulb to his wife's restaurant which enables her to offer food services until late 9pm which is not the case in neighbouring villages.
Having a solar powered house in rural areas like Namikango, Nangunde and Lionja villages is not a simple task because of poverty prevailing the areas. But why Namikango has managed to have many houses with solar powered electricity?
"The development you see is the result of the good price we got for our crops. We sold cashew nuts and pigeon peas at good prices that's why most farmers opted to buy solar panels this year," says Mtauka.
With uncertainty on when will the national grid electricity reach the area, Omar says "people are tired of vibatari (kerosene lamps without the glass) that's why they want solar powered electricity to get rid of smoke".
Omar says most of his friends who visit his grass-thatched house with electricity are always inspired to buy theirs to get rid of paraffin lamps.
"I had a 10 watts solar panel before but I discovered that it was little for our needs here. I sold it and I bought a-20-watts one which enables us to play music, charge phones and light three bulbs.
The local officials in Namikango approximate that more than 65 per cent of households use solar. There is no local official survey carried so far on use of solar energy in the area apart from the national study carried out by Rural Energy Agency (Rea) and National Bureau of Statistics (NBS) last year.
"There was no special campaign to tell people to use solar power for electricity," said Bakir Ngawanje, Namikango ward executive officer.
"Everyone learn from his neighbour the benefits of solar energy and I can tell you most houses here have forgotten the use of vibatari. Mr Ngawanje says it is even difficult now to locate a shop that sells kerosene at the village.
He said officials from Rea once visited the area and promised to include the villages in the third phase of rural electrification programme.
A survey by The Citizen in Nachingwea Town established that the lowest solar power package price starts at Sh80,000 which includes 10 watt panel and accessories like a battery, short electric wire and three lighting bulbs.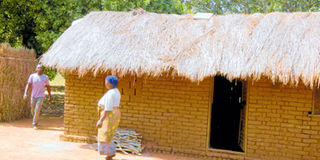 Acting Nachingwea district dxecutive director Arbogast Kiwale says the government has included many villages in the district with no grid electricity in the upcoming third phase of rural electrification project.
It is not a surprise for Namikango to be a solar village. According to the Energy Access Situation Report 2016 (EASSR) released early this year by NBS, Lindi is the leading region in the country in using solar power followed by Njombe and Mtwara.
However, the regions in the same order are the least connected to the electricity from the national grid in the country. Lindi has only a quarter of its households connected to the national grid followed by Njombe (36.6 per cent) and Mtwara at 38.9 per cent.
"Solar power is the dominant electricity source in rural areas as nearly two-thirds of the rural households (64.8 per cent) were using electricity generated from solar energy," reads part of the report.
In rural electrification, the report says all rural households in Shinyanga were using solar electricity closely followed by Mtwara, Katavi, Ruvuma and Njombe.
Analysts said more off-grid areas are now settling to solar powered electricity because its equipment are becoming cheaper every year and it is friendly to the environment.
"People's awareness on the importance of alternative energy technology on off-grid power is increasing very rapidly," said Sisty Basil, National Coordinator at Hivos-IIED Energy change lab based in Dar es Salaam.
Basil said in the last three years solar equipment have become very cheap to the extent that it allows people in rural areas to afford, which was not the case in the past.
He said the trend is likely to grow in the next five years because there are many companies which are coming to invest in solar mini-grid farms however their charges are higher by two times than that of Tanzania National Electricity Supply Company (Tanesco).
"The government should ensure it provides grid electricity in rural areas to support growth of productive activities like small industries that usually creates more employment opportunities and economic growth," he said.
Basil, whose organization is promoting innovation on alternative energy technologies, said the government should also control the importation of low quality solar equipment that cost consumers, especially the poor. The government said as of August last year 4,395 villages had access to electricity equivalent to 36 per cent of 12,268 villages in Tanzania Mainland. The government target is to reach 7,873 more villages by 2020/21.
In the Ministry of Energy and Mineral budget for 2017/18 financial year, the government reveals that preparations for the five-year rural electrification project phase III (2016/17-2020/21) is ready and among sources of energy to be used is solar power.
"In 2017/18 financial year the government through REA will finalise procedures of procuring contractors who will supply electricity to 4,314 villages including those in off-grid areas which some will use solar energy," reads part of the ministry's budget tabled a few months ago in Parliament.