Moledina: Safari business pioneer in Tanzania dies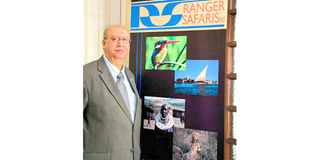 What you need to know:
Among the tourism stakeholders, he stood tall and appeared a 'fatherly' figure and a mentor to the young people and firms trying to establish themselves in the hospitality industry.
Arusha. He was soft-spoken and generally diplomatic in his engagements but with a razor sharp memory that would not let down his trusted clients.
That was Abbas Moledina, the pioneer of the safari business and the force behind the Arusha-based Ranger Safaris tour firm.
The astute businessman passed away on May 11th this year in Canada where he had been living for a couple of years after retirement.
News of his demise sent shockwaves in Arusha, the hub of the country's tourism industry.
This (Arusha) is where he was born, raised and later returned after his studies abroad to nurture what he was passionate about; the safari business.
No wonder the safari business changed the fortunes for his family and the tour operation landscape in Tanzania.
His family is saddened and is having difficulty coming to terms with his death.
This is also the case with the tourism fraternity, especially in Arusha, and the business community in Tanzania in general.
The Ranger Safaris he pioneered is arguably one of the most successful tour companies in Tanzania.
To the Tanzania Association of Tour Operators (Tato), the 40-year-old organization of tour operators, the late Moledina was visionary.
He pioneered the safari business in Tanzania; setting high bench-marks across the industry.
To his close and extended family, relatives, friends and business partners, he was a mentor and 'father' figure to many within the tourism industry.
Over the decades under his strong leadership, Ranger Safaris has grown and continued to be one of the leading tour companies in Tanzania.
He served within the Tato board in different capacities, including vice chairman and chairman during his years at Tato, which is based in Arusha.
His vision and ability to bring all together to focus on working for the greater good of the industry earned him many accolades.
"Mzee Moledina was an astute businessman and a great leader," asserted Sirili Akko, Tato's chief executive officer.
He was not only the force behind the success and growth of Ranger Safaris but had tirelessly invested his time and devoted his resources to the tourism industry and the community, Mr Akko said in a statement to the organization's members.
Among the tourism stakeholders, he stood tall and appeared a 'fatherly' figure and a mentor to the young people and firms trying to establish themselves in the hospitality industry.
There is no contention that many benefited from his wisdom, experience and guidance within the industry as he successfully led tour operations in difficult and challenging times.
Outside the tourism industry, the late Moledina was instrumental in fundraising for charity projects that were undertaken by the Rotary Club of Arusha and the Rotary Foundation.
He worked closely with other Rotary clubs (regionally and internationally) where he managed and pushed for successful implementation of several community support projects.
Eye cataract (gift of sight), conserving and harvesting rainwater harvesting and End Polio Campaign are some of the projects he initiated.
He also worked closely with the Rotary Foundation where he ensured and pushed to raise millions of shillings for the Foundation.
A common saying in Arusha and his close Rotarian family had it that if you knew Abbas, you knew the Rotary Foundation. He became very passionate about his projects, that he would lead and manage.
Some projects which were very close to him; include rain water harvesting projects e.g. Patandi School in Tengeru and other schools in USA River and others further away, Tengeru Women's Market, polio eradication vaccination drive are to name a few amongst many others.
He touched the lives of many in his private capacity and through his business, notably Ranger Safaris which grew over the years starting from VW combi to Nissan Urvan minibuses to Toyota Land Cruisers 4x4s establishing a large fleet of vehicles along with a strong team of safari guides working together.
The late Moledina spent his childhood in Arusha, not very far from the iconic Clock Tower. He later went abroad for his higher education where he specialized in optometry (eye care) and eye contact lenses at the time break through, new technology.
He returned back to Arusha in the 1980s to Ranger Safaris where he grew operations with a few VW Combis and "Eureka" tents.
Later expanding the fleet of vehicles to modern Toyota buses and 4x4 safari cruisers as well as pioneering mobile tented camping.
Today Ranger Safaris is reputed as a pioneer in the Tanzania Tourism Industry.
Marking its 45th anniversary this year, Ranger Safaris remains an industry leader in the Tanzania Tourism Industry. Currently, the company's vehicle fleet comprises an expansive fleet of modern Four-wheel Drive vehicles.
Tato chairman Wilbard Chambulo assured that with sad departure of Mr Moledina, Tato members and the tourism fraternity in Arusha and throughout the country stands with family, friends and Ranger Safaris team at this difficult time.