New efforts to shield smallholders from climate change blow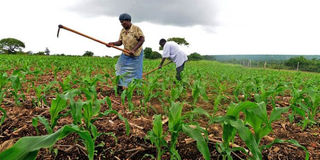 What you need to know:
Besides smallholder farmers, the collaborative agreement will support climate change adaptation efforts by women and youth.
Arusha. New efforts are underway to help smallholder farmers in Africa weather the impact of climate change.
Two global organisations have signed an agreement targeting the vulnerable groups reeling from the crisis.
"We intend to promote projects that foster sustainable development and climate change," said Dr Mithika Mwenda, the executive director of Pan African Climate Change Alliance (Pacja).
He spoke as the Alliance signed the pact with Ban Ki-moon Centre for Global Citizens (BKMC) simultaneously in Nairobi and Vienna on Friday.
Besides smallholder farmers, the collaborative agreement will support climate change adaptation efforts by women and youth.
The two parties, he said, will commit to focus on bettering the lives of vulnerable groups "who suffer the most from the climate change crisis".
His remarks were echoed by Ms Monika Froehler, the CEO of BKMC, the organisation named after the former UN secretary general Ban Ki-moon.
"Our common areas of adaptation and agriculture under the framework of sustainable development goals," she said.
Africa's geography makes it particularly vulnerable to climate change as 70 percent of the population rely on rain-fed agriculture.
At one time, it was projected that yields from rainfed agriculture in some African countries could fall by 50 percent by this decade.
The continent is already under siege from one of the most serious food insecurity crises in recent decades due to severe drought.
Experts have hinted that Africa's GDP may decline by 2 percent as a result of a 1 °C rise in average world temperature, and by 12 percent as a result of a 4 °C rise in temperature.
The landmark Paris Agreement made by UN member states in 2015 to tame the climate crisis will also feature in the process.
"These - sustainable development goals and the Paris Agreement- were among the achievements of Dr Ban when he was the UN chief between 2007 and 2016," she said.
Ms Froehler said the signing of the pact between the two bodies was a milestone in that the affected communities would benefit.
The Nairobi-based Pacja and BKMC which operates from Vienna, Austria have closed ranks in the last two UN Climate Conferences in Glasgow (2021) and recently in Egypt.
Dr Mwenda said the two would further explore the option to participate and collaborate in the joint initiatives agreed upon.
Both parties will also work jointly on research on climate change impacts, identify policy gaps and advance advocacy drive on climate change adaptation.
BKMC was established a few years ago to spearhead peace, empowerment of youth and women, climate action and justice.
Pacja is a consortium of more than 1,000 organisations from 51 African countries with a shared goal of addressing climate and environmental challenges.