Prime
Samia's vision on developing human capital across Africa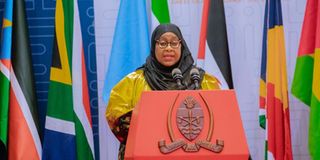 What you need to know:
African leaders and experts say investing in human capital development is not an option if the world's second largest is to liberate itself economically.
Dar es Salaam. African leaders and experts said yesterday that investing in human capital development is not an option if the world's second-largest continent is to liberate itself economically.
They were speaking during the Africa Human Capital Heads of State Summit that brought together over 1,000 participants from 44 governments, who participated physically, with 1,300 others taking part virtually.
President Samia Suluhu Hassan said African nations need to ensure that the education they offer enables youth to increase productivity and eventually have an impact on the countries' economies.
For this to happen, she added, there is a need to increase investment in other areas that would promote efficiency in the education and health sectors.
The areas that will have a positive impact on education and health if they get adequate investment include transport and transportation, energy, clean water and sanitation.
"Let's determine to use our human capital to enhance the reaping demographic dividend," said President Hassan during the summit hosted by the government of Tanzania in partnership with the World Bank.
"Let's take advantage of the large size of the youth population to make an economic revolution."
According to the United Nations (UN) Africa has the youngest population in the world, with 70 percent of sub-Saharan Africa under the age of 30.
And going by the World Economic Forum, over 60 percent of people in Africa are the youth aged below 25.
President Hassan said such a high number of young people could be both a blessing and curse depending on how they would be treated.
 She said it is an opportunity for the continent's growth – but only if these new generations are fully empowered to realise their best potential.
"It (high population) can be good news if and only if we invest in human capital by ensuring the quality health and education that are key in producing the productive workforce as it is in the Asian continent," said President Hassan.
 She went on to add: "If we empower youth, they will get a better life in Africa and stop leaving for Europe in search of green pastures."
She said for the African countries to unleash the human capital potential, governments need to join forces with the private sector and civil societies in investing and creating an enabling environment for investment in human capital.
And for the investment to be meaningful, it should start since a child is born by ensuring good nutrition and right vaccination.
This will help to avoid stunting that lowers the understanding and learning capability of children.
Noting that investment in human capital development in Africa was inevitable, she expressed the need to have keen strategies that will pave a way for the development of Africa and its people.
"We need to build a better future for our youth by ensuring that their dreams come true," she stressed.
However, said President Hassan, if African nations do not invest in human capital, the large youth population will be a curse.
According to the International Growth Centre, given that there is a fixed quantity of land, population growth will eventually reduce the amount of resources that each individual can consume, ultimately resulting in disease, starvation, and war
To add insult to injury, President Hassan said lack of investment in human capital will cause an increase in a number of youth with no skills and thus unemployable.
On those grounds she suggested for African countries to have curricula that meet the labour market demand.
The fourth industrial revolution has brought huge positive changes in health, education, trade, technology, transport and transportation as well as social interaction.
"It is our responsibility to ensure that we (Africa) don't lag behind. We need to make sure we optimally use these opportunities," said President Hassan.
Quoting the founding father of South Africa, the late Nelson Mandela, she said: "education is the most powerful weapon you can use to change the world."
Sierra Leonean President Julius Maada Wonie Bio said if African countries are to succeed in this 21st century, it is a must to invest in human capital.
"It is not a matter of whether we are ready or not to invest in human capital, we need to act now, if we are to move from being at the receiving end of the fourth industrial revolution," said Mr Bio.
He went further to say: "We must make sure that we invest adequately and consistently in human capital."
President Bio concluded by cautioning African countries that they would be wasting time to do any other things in this 21st century, if they were not positioning themselves ahead of the curve.
President of Malawi Lazarus Chakwera said there is a demographic window for economic growth opportunity if the youthful population will be moved into the labour force.
Nevertheless, he said, there are challenges that are impeding youth productivity and they include low access to quality education and skills development, higher adolescent fertility, drug abuse and child marriages
"We need to make sure that education and skills development, science and technology, innovation as well as health and nutrition are central areas to focus on," recommended Mr Chakwera.
Adding: "We need employable skills. We need to address the problem of skills mismatch."
Prime Minister of Eswatini Cleopas Dlamini said there was no option for investing in human capital, if African countries wanted to mould their economies.
"If you look at the proportion of youth relative to the entire population, you can say that if you did anything other than investing in education, you would be playing with fire," said Mr Dlamini.
Somalia Prime minister Hamza Abdi Barre seemed to have been reading from the same script.
"We have no choice, but to be ready to invest in education to spur human capital development. We need to ensure we have in place education for all," he underscored.
Deputy Prime Minister of Ethiopia Demeke Mekonnen said human capital development is the entry point to sustain development and to address inclusive agenda as a whole.
"As a rising continent, it is high time to invest in people. We need to focus on and we have to invest in human development areas," said Mr Mekonnen.
The World Bank Regional Vice President for Eastern and Southern Africa, Dr Victoria Kwakwa, said Africa is facing a serious human capital crisis.
 Even before the pandemic, she said, a child born in Sub-Saharan Africa could expect to be only 40 percent as productive as she would be with full education and full health.
"Without navigating this human capital crisis successfully, African societies and economies risk being trapped in a detrimental cycle of stagnant growth, soaring poverty rates, and increasing inequality," warned Dr Kwakwa.
This situation, he cautioned, could potentially escalate the drivers of fragility and conflict as uneducated and low-skilled youth grow increasingly disillusioned.
In Sub-Saharan Africa, about 89 percent of children are learning poor.
"To make progress, we must break the silos and foster collaboration among all stakeholders," said Dr Kwakwa.
"We need to develop a platform for action that transcends sectoral boundaries and unites government agencies, domestic partners and external allies, including the pivotal private sector."
Minister of Foreign Affairs and East African Cooperation Stergomena Tax said the summit comes at a time when the continent continues to implement agenda 2063 aiming at transforming Africa into a global power house.
To achieve this aspiration, Dr Tax explained, human capital is a critical component requiring massive and coordinated efforts by African countries and other partners.
African leaders used yesterday's summit as a platform for sharing knowledge, experiences and coming up with innovative strategies to unleash the power of human capital and concrete commitment.
The overall theme of the summit is linking investments in human capital to economic growth and harnessing the demographic dividend, by addressing learning poverty and the skills gap for youth and women.