Tanzania ponders on clean cooking energy fund next year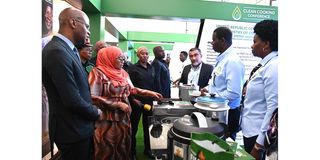 What you need to know:
The move, if realised in the coming year will aim at promoting and replacing 'dirty' cooking solutions harmful to the environment and the health of Tanzanians
Dar es Salaam. The government is set to establish the 'Clean Cooking Energy Fund' come 2023/24 fiscal year, an initiative to promote and replace 'dirty' cooking solutions that not only harm the environment but also the health of women and children.
This was said by President Samia Suluhu Hassan, when gracing a national clean cooking energy conference that stages her administration's political and budgetary will, to create a conducive environment for investments and strong multi-sector partnerships.
The conference paves the way for much-needed action to mobilise the necessary funding, partnerships, and policies to achieve clean cooking for all and accelerate progress towards global climate and development goals.
"As a country, we ought to have a solid strategy related to policy and budget, as well as creating an enabling environment, to which access to clean, safe and clean cooking solutions will be inevitable to all. So we need to work together with the private sector," she explained.
Adding that: "I am, therefore, insisting on the formation of a taskforce (private sector inclusive), to be headed by the prime minister, I want the team to come up with a strategic plan on the solutions related to sustainable clean cooking solutions."
According to the head of state, for Tanzania to achieve its developmental ambition, a shift from 'unclean' to clean cooking energy was vital as the move will stir social growth as women's right to the economy will be protected.
"I want a task force to review our polices… they need to come up with affordable solutions to clean cooking, which indicates its execution plans and resources needed for the implementation," the president instated.
Since the matter is a multi-sectoral issue, President Hassan named the ministries that are involved in one way or another, and will form the said taskforce, as the energy ministry, the vice president office - environment, and the Prime minister's office – policy.
Other ministries according to President Hassan include the ministry of minerals – Stamico (State Mining Corporation), tourism and natural resources, and that the private sector, and development partners are to be members of the team.
"I expect the task force to come up with a 10-year strategy through which 80 - 90 percent of households in Tanzania should be using clean cooking solutions by 2032. This is why, for the government, we will inject substantial funds into the Clean Cooking Energy Fund," she revealed.
Adding: "In fact, we are inviting even the private sector and development partners to contribute, because it will provide incentives, subsidies, and investments into researching, technology, innovation, and creativity,"
According to her, through the said fund, public awareness campaigns will be executed, saying the country's cooking energy transformation was a must for Tanzania to achieve its agenda on providing access to affordable clean cooking solutions to its people.
Since the 70s, Tanzania has been advocating clean cooking, despite the efforts, access to clean cooking solutions has continued to be an issue with severe health, gender, economic, environmental, and climate impacts.
Also during the high-level event, in a first panel moderated by Mr January Makamba, minister responsible for energy, various speakers highlighted the potential of access to clean cooking solutions.
"We support the government's efforts to ensure that all Tanzanians have access to clean cooking solutions for better health. Millions of Tanzanians will reduce their health-care costs, and preserve the environment," said Taifa Gas Tanzania Limited managing director Hamisi Ramadhani.
According to him, at least 1 million acres of trees vanish annually, due to deforestation, different rain patterns, shortage of water, food and pasture. Tanzania ranks fifth globally and the second in Africa for deforestation.
"One of the mechanisms used in 2006 was to remove Value Added Tax (VAT) and Excise Duty on Liquefied petroleum gas (LPG) and its cylinders. At that time, the country's consumption stood at only 3,000 tons of LPG. But the current figure from Ewura, the current consumption is 136,000 tons per annum," he reflected.
When asked why the move to clean cooking solutions was inevitable for the country, Mr Emmanuel Muro, an economist, said: "We need to be honest, and act as soon as possible, per capita consumption of LPG in the country is only 4 kg per.
Adding: "The majority of Tanzanians rely on charcoal and firewood, 50 percent of the country's charcoal production is consumed in Dar es Salaam. The affected regions for deforestation include Pwani, Lindi, Morogoro, Iringa and Tanga."
But Dr Pauline Chale a pulmonologist (expert in respiratory-related diseases) from the Muhimbili National Hospital was of the view that chronic obstructive pulmonary disease, (COPD), affected 17.5 percent of Tanzanians from the said debases.
"The COPD refers to a group of diseases that cause airflow blockage and breathing-related problems. These include emphysema and chronic bronchitis. COPD makes breathing difficult for the 10 million Tanzanians ," she revealed.
Adding that: "COPD is a silent killer (it kills slowly), in Tanzania, at least 33,000 people die annually due to COPD which is caused by dirty cooking biomass solutions such as firewood, cow dung, and other traditional energies."
Dr Chale recalled one of her patients saying: "Treatment for a COPD patient is costly, the initial start-up package cost Sh160,000, and refilling cost about Sh100,000. I had a 66 year old lady who underwent treatment as an outpatient for the last six years."
According to the pulmonologist, her patient who later succumbed to death, last month was admitted into the Intensive Care Unit (ICU), and stayed there for 12 days and charged Sh500,000 per day (Sh6 million for the said duration) and that if one wasn't insured, then it become difficult to afford the cost of treatment.
She therefore noted that unaware of the harmful effects of household air pollution by exposing oneself to daily toxic smoke, increasing risks for asthma, lung tuberculosis, and acute respiratory infections, particularly amongst women and children.
For his part, Mr Manfredo Fanti, ambassador of the European Union Delegation to Tanzania. Said that the European Union (EU) will continue to support the country with its numerous initiatives to reduce the use of charcoal and firewood.
This includes the Integrated Approaches to Sustainable Cooking Solutions, a program which will contribute to reducing climate change impacts in Tanzania and reduce the impact on deforestation. This is achieved by addressing both policy and market challenges of the cooking energy sector in Tanzania.
"The EU grant funds activities such as strengthening the legal and institutional framework for an enabling environment for sustainable management of forest resources supporting the development of appropriate tools for sustainable, climate-smart forest management and utilization," he noted.
Media reports indicated that the adoption of clean cooking practices is in line with the National Energy Policy (NEP) 2015 statement: enhancing fuel switching from wood fuel to modern energy and facilitating the adoption of appropriate cooking appliances to promote alternatives to wood fuel.
Earlier, Mr Makamba said: "This is meant to address barriers thus increase penetration of modern cooking solutions and energies. We aim at investigating and suggesting strategies towards achieving affordable, clean, and reliable cooking solutions."
According to him, considering the wide impact of the use of solid biomass energy for cooking, the transition to an increase in clean cooking practices will have a real and immediate impact on the overall quality of life of Tanzanians.
The transition is also in line with Sustainable Development Goal number 7 (SDG7), as well as Tanzania's SE4All Action Agenda (2015).
In addition to the environmental effects, the continued use of biomass as cooking energy is harmful to human health as it leads to acute respiratory diseases and premature deaths which are attributable to indoor air pollution.