Tanzania to establish its second geopark, the third in Africa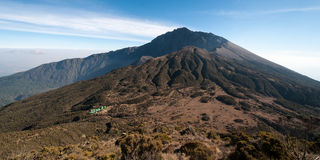 Arusha. Tanzania, which has just taken over the presidency of the African Geoparks Network from Morocco, plans to set up its second geopark at the foot of Mount Meru, which will be known as the Arusha-Meru Geopark.
The UN agency defines Geo parks as single, unified geographical areas where sites and landscapes of international geological significance are managed with a holistic concept of protection, education and sustainable development.
According to Ms Yustina Kiwango, who is Tanzania National Park's assistant commissioner for conservation, Tanzania has already sent to UNESCO the dossier for the proposed formation of the new Arusha-Meru Geopark.
Ms Kiwango, who doubles as the head of Arusha National Park, said they are now working with local residents from more than 12 villages in Arumeru District, where the new geopark will be established.
She pointed out that the new geopark will add to the long list of tourist destinations in the country, especially of different varieties such as geological and cultural tourism.
Tanzania already home to Ngorongoro-Lengai Global Geopark, the first to be established in the Sub-Saharan Africa region and the second on the continent.
The Geopark, which operates under the Conservation Area Authority, was endorsed in 2018 by the United Nations Educational, Scientific, and Cultural Organisation (UNESCO).
At present, there are 195 UNESCO Global Geoparks in 48 countries across the world, with only two countries in Africa hosting global geoparks: Tanzania and Morocco.
Morocco was the first country in Africa to establish the M'Goun Global Geopark which was designated in 2016.
Engineer Joshua Mwankunda, who is Assistant Conservation Commissioner for the Ngorongoro Conservation Area Authority (NCAA) and President of African Geoparks Network, says "Geoparks are the new concept in tourism, which is currently boosting the country's travel industry."
According to Eng. Mwankunda, with these alternative forms of tourism, the country will be able to realise its target of attracting 5 million tourists by 2025.