Tanzanian Passport top 10 most powerful in Africa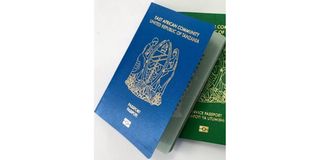 Tanzania's passport has been ranked 74 in the global mobility ranking and maintained its spot as the ninth most powerful in Africa.
The Henley Passport Index Report released on Wednesday, January 11, shows that the number of countries that Tanzanians can visit without a visa, or obtain one on arrival increased to 72.
The mobility score measures the number of countries that a person holding a Tanzanian passport can visit without having a visa or the nations where they can get a visa on arrival.
Japan's passport is the strongest globally, allowing users visa-free access to 193 countries, followed by Singapore, South Korea, Germany and Spain.
Mauritius, which is ranked 34th globally emerged at position one in Africa in the annual rankings produced in cooperation with International Air Transport Association.
Others in that descending order were South Africa (53), Botswana (63), Namibia (67), Lesotho(69), eSwatini (71) and Malawi (72). Tanzania emerged in position 74 with Zambia and Uganda coming in at number 75 and 78, respectively, according to the report.
In the past ranking 12 months ago, Tanzania's passport was placed at number 77.
East African countries rolled out chip-embedded passports for its citizens to combat rampant forgery and impersonation of holders.
The new features make it impossible for anyone to forge or duplicate a passport.