TCRA clears 45 online service providers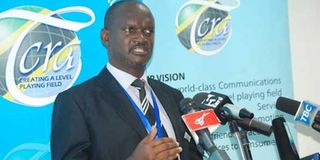 Dar es Salaam. Some 45 online content service providers were yesterday cleared to operate as the government moved to effect the new internet use regulations.
The weblog licences were issued even as it remained unclear if the regulator –Tanzania Communications Regulatory Authority (TCRA) - will switch off hundreds of other unlicenced operators.
There was also no clear direction on the rollout as some operators pointed to the fact that the High Court had issued an injunction suspending the planned registration pending determination of a case challenging The Electronic and Postal Communications (Online Content) Regulations, 2018.
TCRA's Director General James Kilaba who issued the licences said 262 organisations and individuals applied for the registration. He noted that 178 did not meet the licenceing requirments.
"Only 65 o the applicants met all the requirements to be licenced to provide online content but 45 managed to pay the fees," said Mr Kilaba, adding that others qualified but failed to pay the requisite fees.
"We believe that your recognition by the state will be a cornerstone for informing and educating the society," Mr Kilaba told those in the queue to get their licences.
According to Mr Kilaba, the court case did not bar the implementation of the law. "The case only affects the deadline we had issued for registration," he said.
In March, Tanzania approved the controversial regulations.