TPA purchase modern equipment for Mtwara Port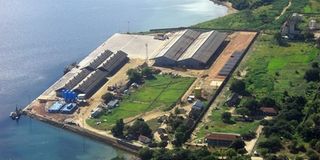 Mtwara. Tanzania Ports Authority (TPA) has procured modern equipment for the Mtwara Port in a fresh bid to improve efficiency and productivity at the southern zone facility.
The equipment includes a movable weigh bridge which has the capacity to serve up to 100 tonnes and a reach stalker which can carry a maximum of 40 tonnes at per.
This was revealed by TPA director general Deusdedit Kakoko during the working visit held by the TPA board of directors to the southern zone that serves Lindi, Mtwara and Ruvuma regions.
He said the machines will help to improve ports capacity to handle large cargoes and win the confidence of customers due to the efficiency and timely service delivery.
"We are determined to modernise our services, this move will enable us perform better in a competitive environment with efficiency," he said.
On board, Mr Kakoko said in the near future, the port would receive the mooring and pilot boats, nine terminal tractors and three modern empty container handlers includes two forklifts and an automatic glab.
"TPA is done with all procurement procedures, so we are waiting for the machines which are set to arrive in this month," he added.
For his part, Mtwara Port manager Nelson Mlali said the new development will easy port's capacity to effectively manage the cargo which has increased by 16.5 per cent in a past five years.
"We have recorded a good performance in the last five years, so with the support of new machines the performance will improve," he said.
In 2016/17, the Mtwara Port handled an average of 377,000 tones equal to 93 per cent of its capacity of 400,000 tonnes per year.
The increase, according to him was possible due to the increase of cashew production, which is a major cash crop in the southern regions.