Class, Mbabe, Mtango face tough boxers in Tanga today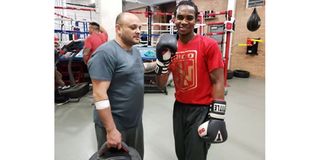 Summary
As Class will fight Zimbabwean Ndodana "The Hummer" Ncube in the scheduled 10 round super featherweight bout, Dulla Mbabe will exchange blows with famous Malawian boxer Chimwemwe Chiotcha
Dar es Salaam. Three top professional boxers in the country will today get into the ring at the Mkwakwani Stadium in Tanga to face foreign challengers.
The boxers are Ibrahim Class, Abdallah Pazi alias Dulla Mbabe and Salim Mtango. All the bouts have been endorsed by the Tanzania Professional Boxing Regulatory Commission (TPBRC). As Class will fight Zimbabwean Ndodana "The Hummer" Ncube in the scheduled 10 round super featherweight bout, Dulla Mbabe will exchange blows with famous Malawian boxer Chimwemwe Chiotcha in the scheduled 10 round super middleweight bout. The fight schedule also shows that Mtango will fight Byson Gwayani, also from Malawi in the super lightweight bout.
Apart from the three main fights, Adam Lazaro will also fight Malawian professional boxer Hannock Phiri in the super light bout while Mchanja Yohana will face Kenyan James Mugeni in the flyweight bout and Ibrahim Mafia will take on Shaaban Madilu in the flyweight non-title bout. The contests have been organized by prominent promoter Ally Mwazoa of Mwazoa Promotions. Mwazoa explained that all the boxers are in top morale ahead of the night of fights, which, he said, are expected to be most thrilling.
"All preparations have been completed and each boxer has bragged to win his respective fight," said Mwazoa.
According to Mwazoa, he has decided to stage the fights in Tanga with the aim of restoring the status of the boxing game in the region. "Tanga has the good history of the game with a number of famous professional boxers. Mwazoa Promotions had previously stopped to stage the fights because of a number of reasons, but we are now strongly back in the game," said Mwazoa.
He called upon professional boxing fans of Tanga and neighbouring regions to attend the fights that are expected to be of more fire.
"I have included famous professional boxers in the country against top ranked fighters from abroad.
"It is quite clear that the day will be coloured by the national flags of Tanzania, Zimbabwe, Kenya and Malawi," he said. Mwazoa also said their firm is still promoting young talented professional boxers, whose fights will be announced and staged soon.