Coastal Union seek revenge against Simba in Azam Cup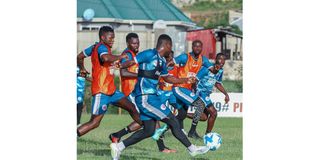 Summary
Apart from the Simba- Coastal Union encounter scheduled to kickoff at 7pm, Singida Big Stars will also today face Ruvu Shooting at the Liti Stadium in Singida
Dar es Salaam. Football giants Simba Sports Club today face the acid test of Coastal Union of Tanga in the Azam Federation Cup match at the Benjamin Mkapa Stadium in Dar es Salaam.
Apart from the encounter scheduled to kickoff at 7pm, Singida Big Stars will also today face Ruvu Shooting at the Liti Stadium in Singida while Geita Gold FC will meet Nzega United at Nyankumbu and Mbeya Kwanza will host Mbeya City at the Majimaji Stadium in Songea.
Also, today's fixture shows that Kinondoni Municipal Council FC (KMC) will clash with Copco FC at the Uhuru Stadium in Dar es Salaam and New Dundee will face African Sports at the Jamhuri Stadium in Dodoma.
The matches are decisive for all the teams for qualification for the last 16 of the knockout competition.
However, all the eyes and ears will likely be directed at the Benjamin Mkapa Stadium, where Simba, under assistant coach Juma Mgunda, will target to maintain their good record against Coastal Union.
Mgunda, a former Coastal Union coach, led the Msimbazi Street giants in a 3-0 victory over Coastal Union at the Mkwakwani Stadium in the Mainland Tanzania Premier League encounter.
However, Coastal Union, under Joseph Lazaro, have improved their squad after recruiting new players including Geukord Mwamba wa Mwamba and Felly Mukumba, both from the DR Congo and Burundian goalkeeper Justine Ndikumana.
Also, on the list are Yusuph Athuman, who is on loan from Young Africans (Yanga), Enock Jiha from Mbeya Kwanza FC and Juma Mahadhi, who has returned to his home club, Coastal Union, after playing for Yanga and Geita Gold FC.
Mgunda said they do not underestimate their opponents in the encounter and target a good result. He said all his players are in high morale and ready to deliver their best in the encounter.
"I'm happy that all my key players have rejoined the team and ready to do their best in the match. It is going to be the challenging one as each team will be targeting a positive result," said Mgunda.
Coastal Union also target victory in order to improve their chances in the league standings. However, Coastal Union head Coach Joseph Lazaro said their main target is to eliminate Simba and continue to chase the title as they did last year when they reached the final against the reigning champions, Yanga.
"My players are well-focused on the encounter. Their morale is high and I believe they will shine," said Lazaro.