CAF names referees ahead of Simba, Yanga assignments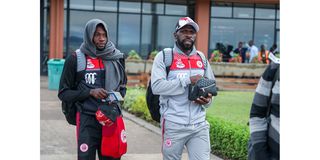 Summary
Simba will be in action tomorrow at the Stade Mohamed V in Casablanca, Morocco, from 10pm (1am Tanzanian time on Saturday)
Dar es Salaam. The Confederation of African Football (CAF) has named Mauritius' referee Ahmad Heeralall to officiate the CAF Champions League formality encounter between Tanzania's Simba and Raja Club Athletic of Morocco.
Simba will be in action tomorrow at the Stade Mohamed V in Casablanca, Morocco, from 10pm (1am Tanzanian time on Saturday).
Already Simba players have arrived in Casablanca ahead of the Group F encounter.
According to the CAF's statement, Heeralall will be assisted by Hensley Petrousse from Seychelles and Ram Babajee from Mauritania while the fourth official will be Ganesh Chutooree from Mauritius.
Both Simba and Raja Club Athletic have qualified for the quarterfinals of the CAF competitions. The match is regarded as the battle of supremacy and Simba target to revenge against one of the African football giants.
In the first leg held at the Benjamin Mkapa Stadium in Dar es Salaam, Simba lost 3-0.
However, Simba will miss the services of their five players in the encounter including Mohammed Hussein alias Tshabalala, Jonas Mkude, Ismael Sawadogo, Augustine Okrah and Mohamed Ouattara.
The team's head coach, Roberto Oliveira Gonçalves do Carmo alias Robertinho, said they are going to prove their worth in the encounter despite facing a tough assignment.
He said his players are in good form and are ready to deliver their best in the match.
Meanwhile, the Yanga-TP Mazembe match of the CAF Confederation Cup will be officiated by Algerian referees namely Lahlou Benbraham, who will be at the centre, Mokrane Gourari and Abbes Zerhouni as his assistants. The match's fourth official will be Houssam Benyahia.
Yanga's players leave today for Lubumbashi in the DR Congo ahead of the encounter scheduled to take place on Sunday from 4pm Tanzanian time.
Yanga are currently in the top position of Group D of the Confederation Cup and have already qualified for the knockout stage with 10 points. Tunisian side Union Sportive Monastirienne are placed second with the same number of points. In their first leg, Yanga won 3-1 at the Benjamin Mkapa Stadium in Dar es Salaam.
Despite having qualified for the knockout stage, Yanga head coach Nasreddine Nabi said they are taking the encounter seriously and target victory in order to dominate the top position.