Ex-champions Coastal, Prisons face relegation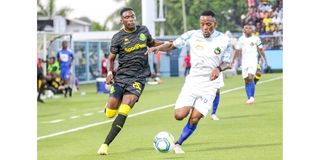 Summary
Tanzania Prisons and Coastal Union, who were Tanzania Mainland champions in 1999 and 198, respectively, are among teams that are in danger of being relegated from the Premier League
The Tanzania Mainland Premier League is the top-level football league in Tanzania and is administered by the Tanzania Football Federation. This league was created in 1965, when it was known as the National League. Its name was changed later to the "First Division Soccer League" and changed again in 1997 to the Mainland Premier League
Dar es Salaam. With the NBC Premier League having stopped for four weeks to pave the way for the Africa Cup of Nations (Afcon), the focus is now on the relegation battle.
The 16-club league is now in the 25th round, and the four teams in the relegation zone are Polisi Tanzania, who on 19 points, Ruvu Shooting (20), Tanzania Prisons (25) and former champions Coastal Union, who are 13th with 26 points.
Tanzania Prisons and Coastal Union were Mainland champions in 1999 and 1988, respectively
The two bottom-placed teams will be automatically relegated to the Championship, while those who will finish 13th and 14th will face teams from the second-tier league in playoffs.
The four teams are in the danger zone due to the number of points they have collected so far.
Polisi Tanzania can collect a maximum of 34 points if they win all their remaining matches. The team will face against Singida Big Stars away before hosting Ihefu FC and Mtibwa Sugar in Moshi and playing away to Simba and Azam.
Polisi head coach Mwinyi Zahera said they are struggling to avoid relegation despite the fact that they are facing an uphill task.
"We are not in safe position, but we will make sure fight hard to do well in the remaining matches. We are playing well, but individual and team mistakes costs us to lose various matches. We will rectify all mistakes in the coming matches," he said.
Also in the danger zone are Ruvu Shooting, who can reach 35 points if they win all their remaining matches. The team need to win against Tanzania Prisons, Azam FC, Simba, Singida Big Star and Dodoma Jiji FC.
The league's log also shows that Tanzania Prisons, who won the 1999 Mainland Tanzania title, could be relegated if they will not get favourable results in their remaining matches.
Tanzania Prisons have so far collected 25 matches and face an uphill task against Ruvu Shooting, Geita Gold FC, Kagera Sugar, KMC and defending champions Yanga.
The team can bag a maximum of 40 points if they win all their remaining matches.
Another famous team in the country, Coastal Union, also have to fight hard in order to remain in the league.
Coastal Union, who were crowned Mainland champions in 1988, are placed 13th with 26 points and can collect 41 points if they will win all their five remaining matches.
Apart from battlefield in the regulation zone, two teams, traditional giants Young Africans (Yanga) and Simba are battling for the silverware. Yanga are at the top with 65 points and need at least 10 points to win the title. The teams will meet on April 16 at the Benjamin Mkapa Stadium.
The match will be decisive and per statistics, Simba need victory in order to cut an eight point gap. So far Yanga have the best chance to win the title.
Another battle lines are for the teams that are fighting for the third and fourth places in the league in order to secure continental club championships places.
Tanzania is expecting to field four teams in the continental club champions' Top two teams in the standing will feature in the CAF Champions League while third and fourth placed teams will compete in the CAF Confederation Cup.
So far Singida Big Stars, Azam FC and Geita Gold FC are fighting for the two positions. Singida Big Stars have so far collected 48 points while Azam FC have 47 and Geita Gold FC have 34 points.