Makonda drums up support for Stars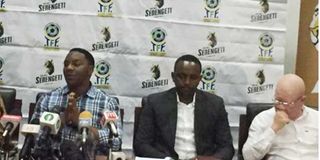 Dar es Salaam. Chairman of a special committee formed to ensure the national soccer team, Taifa Stars, qualify for the 2019 Africa Cup of Nations (Afcon) finals, Paul Makonda, has asked Tanzanians to rally around the team ahead of this weekend's clash against Uganda Cranes.
Taifa Stars must beat Uganda Cranes in Sunday's match at the National Stadium, if they are qualify for the Afcon finals to be held in Cairo, Egypt from June 21 to 19.
"All I am asking for is for Tanzanians to continue to support Taifa Stars with prayers for the team to down Uganda Cranes and sail through," Makonda said.
Makonda, who doubles as Dar es Salaam Regional Commissioner (RC), asked soccer fans to turn up at the 60,000-seater venue in large numbers on Sunday to cheer the team.
"In football, fans are the 12th player for the home team. I, therefore, call upon Tanzanians to give Taifa Stars the support they need to shine on Sunday," he insisted.
Stars, whose first ever appearance in the Afcon finals dates back to 1980 in Nigeria, are now camping in the city ahead of the crucial clash.
He urged sports journalists to join hands with the country's football authorities in supporting Stars, saying they (journalists) have a key role to play on sports promotion in Tanzania.