Simba fail to leapfrog Yanga in NBC League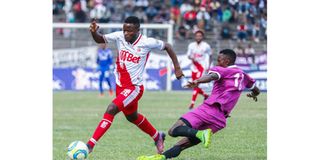 Summary
Yanga remain at the top with 29 points from 11 matches while Azam FC are second with 29 points from 13 matches
Mbeya. Heavyweights, Simba SC, yesterday failed to leapfrog Young Africans (Yanga) and Azam FC from the top of the Mainland Tanzania NBC Premier league standings after drawing 1-1 against Mbeya City at the Sokoine Stadium in Mbeya.
The result means Simba remain in the third position with 28 points from 13 matches while Yanga still lead the league with 29 points from 11 matches and Azam FC are in the second position with 29 points from 13 matches. Mbeya City are placed sixth with 19 points from 13 matches.
Simba scored in the 15th minute through Mzamiru Yassin after he was set clear by John Bocco. However, Mbeya City equalized in the 78th through Tariq Kiakala following a good pass from Awadhi Juma.
Mbeya City assistant coach Anthon Mwamlima commended his players for the result against one of the giant teams in the league, saying that they are now focusing on the next match against Yanga.
"We played very well in the second half by creating many scoring chances, which my players failed to convert them into goals. We noticed the problem, which we are going to fix in training before facing Yanga," said Mwamlima.
Simba head coach Juma Mgunda also said his men played well, despite making mistakes that allowed Mbeya City to equalize.
"It was a tough match as both teams were searching for victory. We are now turning focus to our next match," said Mgunda. The league continues tomorrow, whereby Geita Gold FC will be hosting Ihefu FC at Nyankumbu Stadium in Geita.
The match has been scheduled to kickoff at 4pm and both coaches of the teams have bragged to come out with a good result. Geita Gold FC head coach Fred Felix Minziro predicted a tough game, despite targeting victory. He said all his players are in good shape and ready to show their commitment in the encounter.
"We are going to play against a tough team with experienced players. We will have to be very keen throughout the game.
"However, I believe that my players will play hard to win the encounter," said Minziro. Geita Gold FC are now placed seventh in the league log after collecting 18 points from 13 matches. Ihefu FC are at the bottom with eight points from 12 matches.
Their head coach, Juma Mwambusi, said they are expecting to face a strong opposition from Geita Gold FC during the match.