How attack on Kenyatta farm exposes intra-Kikuyu conflict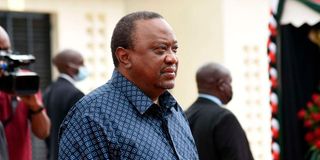 The raid on an expansive piece of land owned by the family of former President Uhuru Kenyatta on Monday showed the extent to which responses to the protests called by opposition leader Raila Odinga have to an extent morphed into an intra-Kikuyu conflict.
The assault on the Kenyatta enterprise, a 20,000 acre spread hosting Brookside Dairy and the high-cost Peponi School, seemed planned and coordinated by elements within the government in response to claims that the former President was the real organiser and financier of the opposition protests.
However, the operation also reflected a raging anti-Kenyatta campaign driven by the Central brigade within Kenya Kwanza led by Deputy President Rigathi Gachagua, with vocal support from the likes of National Assembly Majority Leader Kimani Ichung'wa and Trade Cabinet Secretary Moses Kuria.
A lot of it has to do with Mr Gachagua's ongoing campaign to seize the Kikuyu leadership mantle. The DP seems to have made it a personal crusade to cut down to size the former President, as well as the rest of the influential and immensely wealthy family of his father, Kenya's first President Jomo Kenyatta. Right now the rationale seems to be that Mr Kenyatta is the one actually behind the opposition rallies, with Mr Odinga just a puppet.
That of course is highly unlikely given the history of the veteran opposition leader and how he has always been able to bend others to his will rather than the other way around.
In any case, that does not explain why the Raila demonstrations have been turned into a Kikuyu problem rather than a national problem.
It is also clear that the DP's fixation with the Kenyattas started way before the demonstrations. In the run up the elections last August, Mr Gachagua was the most consistent in pointing the finger at the outgoing President as head of a political and business cartel that must be brought down. In campaign rallies across the Mt Kenya region, he took to citing Kenyatta enterprises — Brookside Dairy, NCBA Bank and vast tracts of land — accusing them of exploiting ordinary citizens or expropriating community wealth.
The rhetoric continued even after the elections and well before Mr Odinga launched his protest rallies on March 20.
During that entire period, there has not been a single shred of evidence that Mr Kenyatta was the financier, even though it has not been in doubt that he openly backed Mr Odinga's election bid and after the Supreme Court dismissed Mr Odinga's presidential election petition, publicly backed the Opposition leader.
Mr Gachagua and his troops have continued to make the former President the subject of their ire. This might suggest that the DP feels incapable of assuming community leadership as long as Mr Kenyatta is in the picture, or he has specifically been told to neutralise him once and for all.
Some important Kenya Kwanza figures from the region who are also supporters of Dr Ruto, such as former Murang'a Governor Mwangi wa Iria, have expressed disappointment and disgust, and called on the President to put a stop to such actions.
Other than a small cohort in Mr Gachagua's orbit trying to justify the invasion, most Mt Kenya leaders from the ruling coalition have retreated into embarrassed silence, but are too cautious to speak out.
Even the President himself, who was away in Germany on a visit, consciously tried to wash his hands off the whole affair. It is also evident that a figure as important as Interior Cabinet Secretary Kithure Kindiki, who is directly in charge of the National Police Service that preferred to look away as events unfolded, seems to have been caught unawares.
If it is true that Prof Kindiki was kept out of the loop as a small group around Mr Gachagua directed Inspector-General of Police Japheth Koome to use maximum force on demonstrators, that could be evidence of a split in the government that might not auger well.
If the raid was planned and executed by a small group of Mt Kenya politicians acting in concert with allies in the police service, there will be a concern in the topmost organs of government that part of the National Police Service command has been captured to serve the political interests on an ethnic faction.
Mr Gachagua makes no secret of the fact that he is eyeing the presidency. His aggressive campaign to assume Mt Kenya leadership is geared at ensuring he is first in line when the Ruto succession plan starts goes into gear. But he would also be aware that a Deputy President who shows too much ambition, seem over-eager to shove his boss aside, and generally starts elevating himself to an equal, also breeds a great deal of suspicion.
He can learn valuable lessons from President Ruto's own tenure as Deputy President, when hi second term was marked by irreconcilable differences.
The Deputy President knows that he cannot be sacked whatever transgressions he commits, but he is also not blind to the fact that a President seeking a second term will have a free hand to pick his preferred running mate in the 2027 polls.
Unless planning his own run at the presidency after the first term, for Mr Gachagua to retain his position, will have to make himself indispensable to Dr Ruto. Beyond enjoying the trust and confidence of his boss, it will also help to have firm control of a populous voting bloc, especially as he knows he was not the first choice of the Mr Kenya brigade for running mate.
Despite rhetoric on his own role in securing victory, Mr Gachagua is also painfully aware that he played little role in bringing out the populous Kikuyu vote for Kenya Kwanza. It was already in the bag and loyal directly to Dr Ruto than through an intermediary.
That knowledge might partly inform his determination to own that constituency. The tricky bit is that he could overreach himself and either alienate the same voting bloc his is trying to capture; or project himself as a rival to the President.