Prime
New Lands minister needs to revive housing agenda and tap into the private sector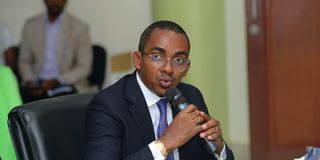 What you need to know:
There is no need to wait for masterplans. A popularly prepared land use plan for our urban areas, prepared with the blessing and guidance of the Ministry of Lands can go a long way to reduce this problem.
The new Minister for Lands has outlined his 12 priorities. However, many stakeholders have ideas which the Minister may want to consider, as he injects new blood into the Ministry.
The duties of the Ministry include developing housing in the country. This is a sector that has remained doggy, with a conviction by some officials, especially urban planners, that housing is either land, or human settlements.
The Minister may want to intervene, so that Tanzania has a clear housing policy and house development agendas, as part and parcel of national development strategies. The Minister may not have been around when the country got independence, but housing was, then, top on the national agenda.
There is adequate writing on the early days, and what the government did then, including having in place, vibrant housing cooperatives.
There have been enough arguments made distinguishing housing from human settlements. The Minister may want to call housing stakeholders to hear their views.
Orderly urban development, in terms of proper land use planning, is within the docket of the Ministry of Lands. Yet all our urban areas are growing rapidly in an unplanned manner.
The view that 70 of the population of Dar es Salaam, lives in unplanned and informal areas, is an understatement. The Ministry's own data, taken in 2004, or thereabouts, indicated then that this proportion was 80 percent.
This is the picture, not only for many of our large urban centres, but also for the rapidly growing small urban areas, townships and trade centres.
Sometimes, the responsibility for orderly urban development is tossed between the Ministry and Local Government authorities (LGAs).The Ministry may want to come out with an operation "ondoa ujenzi holela", to minimize or do away with unplanned urban development.
There is no need to wait for masterplans. A popularly prepared land use plan for our urban areas, prepared with the blessing and guidance of the Ministry of Lands can go a long way to reduce this problem.
Sometimes, it is useful to look back at some of the plans that were made to improve urban land use conditions. Here is an example.
In 2010, a "Citywide Action Plan for Upgrading Unplanned and Unserviced Settlements in Dar es Salaam" was launched with a lot of hope. It was signed by the then Minister for Lands and the then Prime Minister.
The goal of the Action Plan was to upgrade at least 50 percent of the existing unplanned and unserviced areas in Dar es Salaam by 2020, while, simultaneously, preventing the formation of new unplanned settlements. Cost implications and institutional and implementation arrangements were outlined.
Given that unplanned settlements have continued to grow, the Minister may want to look at this Action Plan and see how it can be revised to help in addressing the issues of the city of Dar es Salaam, with lessons for other urban areas.
It is also important to ensure that small urban areas and trade centres are not left to develop in unplanned manner since it is difficult to undo the damage once it has taken place. The Swahili saying: "Samaki mkunje akingali mbichi" is most appropriate in these circumstances.
The Ministry needs a home grown sectoral development plan, if there is not one in place.
There is a tendency to see donor funded projects as being at the heart of sectoral development. This needs to be reassessed since, in almost all cases, these projects are limited in scope and are time bound. The Land Tenure Support Project, for example, on whose much hope was placed, applied to only three districts of Kilombero, Ulanga and Malinyi in Morogoro region, and has long been wound up.
Donor funded projects should be used mainly to build national capacity, so that when the project comes to an end, the projects' ideals can be continued within the local circumstances.
These projects should be fit into existing national plans but should not the drivers.
Last, but not least or final, the Minister may want to think of tapping on the private sector to help in implementing the Ministry's plans and projects.
Already there is some good relationships between the Ministry and the private sector, in areas such as land use planning, surveying, registration, transfers, valuation, and others, but this needs to be cemented.
There is need to improve this relationship, especially by the Ministry issuing guidelines which can help the private sector to perform.
Again, here, it may be useful for the Minister to have a session with the private sector, to iron out any misunderstandings, so that the Ministry and the private sector work hand in hand to bring about the required sectoral, and national development.
A big welcome to Minister Silaa, to the Ministry of Lands.