Sino-African cooperation on health more vital than ever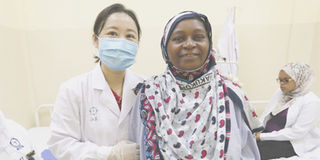 What you need to know:
With no conditions attached, China's bilateral and multilateral healthcare assistance to Africa has been established on the principle of equality and mutual benefit
Sino-African healthcare diplomacy in the past six decades has been remarkably inspiring. Africa, through China's support, has defied the doom and gloom that have characterized its healthcare system as the globe's weakest link in the fight against communicable and noncommunicable diseases.
With no conditions attached, China's bilateral and multilateral healthcare assistance to Africa has been established on the principle of equality and mutual benefit. This open and inclusive attitude from China has supported African countries in responding effectively to various epidemics including Ebola and COVID-19.
The strategic diplomacy and policy approaches in providing shared prosperity in the China-Africa community of health for the past six decades are anchored on several factors.
The first is Chinese medical teams. After the attainment of self-rule for most African countries, Africa needed to develop its ravaged healthcare system. When the French medical team withdrew its services in Algeria in 1962, the government requested that the international community offer medical aid to its citizens. China responded immediately in 1963 by sending its first medical team to the North African country, marking the genesis of it providing medical aid to other countries.
As Chinese and African diplomatic relations continued to flourish, more medical teams were sent to provide additional personnel to understaffed hospitals and clinics in Africa.
Consequently, when the Ebola outbreak struck West Africa in 2014, Chinese medical teams were instrumental in the fight against the disease. Similarly, in boosting its COVID-19 aid efforts in Africa, China sent medical teams to various African countries to help fight the pandemic. Since 1963, various reports indicate that China has sent more than 20,000 Chinese health professionals to Africa, benefiting millions of patients on the continent.
The second factor is infrastructure development. Since the beginning of the 21st century, China has strengthened its medical cooperation with Africa through infrastructure development. In 2015, after the second Ministerial Forum of China-Africa Health Development was held in Cape Town, South Africa, China pledged to build 100 hospitals and clinics on the continent. True to its promise, China has continued to implement its pledge through the construction of ultramodern health facilities in Africa.
For instance, in 2018, China fully funded and built the largest and one of the most advanced healthcare facilities in West Africa in Niger. Similarly, in 2022, Egypt launched, with China's assistance, an automated and refrigerated vaccine storage complex with a capacity for storing up to 150 million doses. This facility will ensure the safety of vaccine storage and boost Africa's vaccine supply chain, especially in light of the extra 1 billion COVID-19 vaccine doses from China that were pledged during the 2021 Forum on China-Africa Cooperation in Dakar, Senegal.
At the continental level, China has aided the construction of the Africa Centres for Disease Control and Prevention headquarters in Addis Ababa, Ethiopia. The headquarters will help countries on the continent develop a line of defense for public health, improve disease prevention and monitoring, accelerate pandemic emergency response and improve the African public health prevention and control system and capabilities, in a bid to benefit a population of approximately 1.4 billion people.
The third factor is establishment of healthcare management and policy coordination systems. In shaping the future of sustainable and long-term health cooperation, Chinese and African health ministers established in 2013 the Ministerial Forum of China-Africa Health Development. The forum has been instrumental in mapping and supporting Africa's long-term healthcare policy coordination and management systems.
The fourth anchoring factor is promotion of information exchanges and technologies. Through the Forum on China-Africa Cooperation, China has implemented health research programs that aim to provide cutting-edge technology transfers in Africa. For instance, through digital technology, China was able to train African medical professionals remotely through cloud technology support and share various digital epidemic prevention and control manuals. China has also offered hundreds of thousands of scholarships to African students to earn medical-related degrees.
The collaborative health diplomacy between Africa and China is becoming more vital than ever in saving lives and improving the healthcare system in Africa.
Thus, as Africa and China strive to build a community with a shared future in the new era, including a community of health, the two civilizations should continue to ensure that there is access to quality medicines and pharmaceutical supplies for Africa. In addition, more bilateral engagements with China through joint venture cooperations, private-public partnerships and build-operate-transfer projects should be encouraged to strengthen the healthcare systems in Africa.
The author is executive director of the China-Africa Center at the Africa Policy Institute in Kenya