TANAPA: Aviation and tourism are naturally connected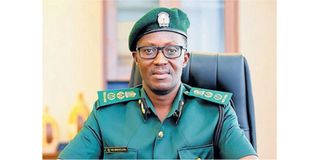 They say absence makes the heart grow fonder. No any other time when tourism industry had recognized the reality of the proverb than in 2019 when the aviation industry collapsed, due to an outbreak of COVID-19 pan­demic.
But, why? Conservation Commis­sioner for Tanzania National Parks (TANAPA), the custodian of all 22 national parks across the country, Commissioner, William Mwakilema, says aviation and tourism industries are intrinsically linked under the umbrella of travel.
"Tourism relies on aviation to bring in visitors, and aviation relies on tour­ism to generate demand and fill the seats," Mr. Mwakilema says, adding that TANAPA recognises how avia­tion, plays a cardinal role in the tour­ism industry.
It facilitates fast, comfortable, and safe means of travelling to the Tanza­nia destination through international airlines, and to move from one park to another within the country through domestic air services.
"So, when the aviation industry was hobbled by the brutal waves of COV­ID-19, tourism was naturally brought to its knees because no foreign tourist could travel to Tanzania without fly­ing," Mr. Mwakilema explains.
It should be recalled that TANAPA depends on tourism to generate reve­nue in a bid to bankroll conservation efforts in all 22 national parks covering an area of 104,464 square kilometers, approximately the land area of Croatia, the conservation Chief observes.
TANAPA as the state-run conserva­tion and tourism agency, appreciates the contributions of aviation services to fast-track growth of tourism as the world marks the International Civil Aviation Day themed "Advancing Innovation for Global Aviation Devel­opment".
It is estimated that 90 percent of 1.5 million international tourists visiting the country annually use air flight as their model of transport.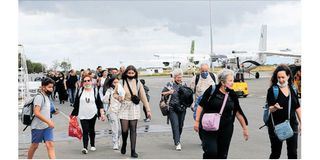 And, indeed, it is through this form of transport that the likes of Serengeti, Mount Kilimanjaro, Arusha, Rua­ha, Tarangire, Lake Manyara, Katavi, Mikumi, Gombe Stream, Rubondo Island, Saanane Island, Rumany­ika-Karagwe, Mkomazi, Saadani, Kitulo, Nyerere, Burigi-Chato, Iban­da-Kyerwa, Kigosi, Ugalla River, Udzu­ngwa Mountains and Mahale Moun­tains national parks can be reached.
No wonder, TANAPA has approved 24 airstrips within the national parks to enable commercial flights to oper­ate as part of its painstaking initiatives to offer holidaymakers hassle-free and unforgettable trips in Tanzania.
Fortunately, one of TANAPA air­strips, Msembe, which serves the breath-taking and protected Ruaha National Park, was ranked second in the world for offering the most stun­ning approach to landing, only after Ireland's Donegal Airport in 2020.
The world's most scenic airport approaches, as ranked annually by booking platform PrivateFly, were in 2020 looked more glorious than ever.
More than 6,000 frequent fliers and aviation enthusiasts took part in the 2020 poll, with voting taking place in February and March, just before travel restrictions to fight against COVID-19 were imposed around the world.
Adam Twidell, PrivateFly CEO, said: "Many of us have flown less frequently this year, but these ultimate destina­tion landings are a welcome reminder of the uplifting power of travel and avi­ation – and a jaw dropping inspiration for some memorable future flights. Flying offers the ultimate ringside seat to some of the most incredible views to be seen anywhere around the world.
"Our top ten list for 2020 has been compiled following submissions from aviation enthusiasts around the globe, eager to celebrate the most beautiful aerial views from window seats and flight decks. The highest new entry is Tanzania's Msembe Airstrip, in second place, which serves East Africa's Ruaha National Park," says Twidell.
The award, in essence, has elevat­ed the profile of destination Tanzania internationally, specifically in aviation infrastructure, courtesy of significant efforts by TANAPA to build or refur­bish some infrastructure.
"As the government's arm, we spare no effort to create conducive environ­ment for tourism to grow by leaps and bounds in a bid to achieve the five-mil­lion tourist arrivals target and to earn over the economy $6 billion as clearly articulated in the ruling Chama Cha Mapinduzi (CCM) manifesto," Mr. Mwakilema says.
"The Royal Tour film is part of the President Samia Suluhu Hassan's ambitious commitment to realize the CCM General Election manifesto pledge of spurring tourism industry for it to create meaningful employment and to leapfrog other economic sec­tors," the TANAPA Chief notes.
Indeed, the CCM manifesto clear­ly stipulates that tourism will attract five million tourists who will leave behind nearly $6.6 billion by 2025 with expected massive multiplier effects to a critical mass of ordinary folks in Tan­zania, particularly women and youth.
It is understood, about 80 percent of a tourists' expenditure is on airline travel, says Mr. Mwakilema, adding that countries with their own interna­tional air carriers are capable of stim­ulating tourism much better and earn more than those without.
For that reason, small nations in Africa like Seychelles and Mauritius have developed a vibrant tourism industry. Egypt, South Africa and Ken­ya are similarly great tourist destina­tions, owing to their strong airlines.
"We are also coming to that direc­tion as the government under Presi­dent Samia is strategically investing heavily in Air Tanzania for it to pene­trate into international markets and to serve the tourism industry much better," the TANAPA Commander explains.
The TANAPA Board Chairman, Retired General George Waitara, comments saying beyond serving the tourism market, air transport also con­tributes to domestic and international trade, empowers community cohesion via rapid transit, and directly contrib­utes revenue to the Treasury in forms of taxation, safety fees and air naviga­tion, parking and landing charges.
General Waitara argues that there's an urgent need for attracting as many airlines as possible to directly land in Tanzania rather than in neighboring countries in a bid to spur the country's economy.
"The government is doing a great stride, we have seen the Kilimanja­ro Airports Development Company (KADCO), the state-run firm entrust­ed to manage the Kilimanjaro Inter­national Airport (KIA), successfully attracting three airlines, if my memo­ries serve me well, to directly land at the airport," he says.
Indeed, a number of international airlines are now scrambling to include KIA in their list of potential destina­tions, thanks to the KADCO manage­ment's efforts to improve infrastruc­ture and services.
KIA, which straddles between Aru­sha and Kilimanjaro northern regions, is the Tanzania's strategic gateway for close to 80 percent of 1.5 million tour­ists visiting the country annually.
TANAPA also hopes that the signing of a memorandum of understanding between the Tanzanian Government and Dallas in April 2022 was one of the great achievements of the Royal Tour of US by Her Excellency Samia Sulu­hu Hassan, as this will attract more American visitors to Tanzania's tourist destination.
More direct flights need to be add­ed to key markets while maintaining a closer collaboration between the aviation and tourism industries for sustainable growth of the sub-sector. This will ease flight interconnectivity to tourists who prefer to do inter-con­nected travels.