Why 'Nyumba ni Choo' campaign has changed narratives in WASH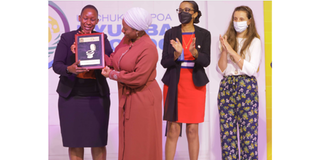 Storytelling is vital for our societies. From oral tales to written stories, visual arts to social trends, we pass on myths, wisdom, entertainment, and identity through all forms of media.
Storytelling is often presented as a tradition; however, these narratives also have a key role in shaping change.
With a revolution in culture, media, and entertainment, African nations are entering a new age of storytelling.
Research shows the sector is booming, with revenue set to increase at 20% of compound annual growth rate between 2018 and 2023. This growth — and the diversification of platforms that comes with it — is an unprecedented opportunity for the global development sector.
Traditionally, development actors have treated TV, radio, and other platforms as a mediator — a middleman to increase the reach of their expertise and experience. In this new age of media, we need to see it as something more — a medium for creating stories, not just telling them.
This means not only reporting on projects through news outlets or social media but using these platforms to bring people into the narrative.
As Brennan Lowery, Kelly Vodden, Ratana Chuenpagdee, and John Dagevos wrote in Sustainable Development: "The use of narrative elements to explain social phenomena allows actors to transform events and places as part of an unfolding plot, inviting different audiences to decide which role they will play."
By making individuals part of the story, rather than simply trying to educate them, you can greatly increase the impetus for behavior change.
They identify themselves as characters, heroes, in a tale of positive transformation and are mobilized to drive change.
The use of creative media to engage people in shared narratives has already seen success at a local scale.
In Mathare, one of Kenya's largest slums, the creation of Mathare Empire, a local entertainment label, has helped shape a unique philosophy, Mathare Futurism, which encourages residents to work proactively toward possible realities for their home.
Similarly, in Burkina Faso, Espace Culturel Gambidi used murals and theater to boost the use and maintenance of latrines from 36% to 98%.
In Tanzania, meanwhile, the concept is driving change at a national scale. The Nyumba Ni Choo campaign sought to reshape the country's story on sanitation — from one focused on dirt and disease to an aspirational narrative, the simple message that a house is not complete without a toilet. In 2017, just 42% of Tanzanians had a basic toilet or latrine. Now, more than 70% of households have improved sanitation.
As a project, Nyumba Ni Choo succeeded because it built a national story, mobilizing diverse streams of media to involve communities in a reshaping of the Tanzanian narrative.
It mobilized more than 28,000 radio and 2,700 TV spots, while reaching an audience of 6 million people on social media.
This weaving of different media into one story enabled Nyumba Ni Choo to convey a compelling sense of national movement. Everywhere Tanzanians looked, they were immersed in a moment of positive change.
Mrisho Mpoto, the popular musician who fronted much of the campaign not only had his own television show; he also toured the nation appearing at events, which in turn were broadcast via a partnership with one of the country's leading TV stations. Nyumba Ni Choo had its own makeover show, radio spot, and cartoon. It harnessed political speeches and sporting events, SMS campaigns, and popular music.
The elevation of Nyumba Ni Choo across all levels of media fundamentally changed the ways communities thought about sanitation and their role in its promotion.
As one village health worker said: "It made me love my job and work with more enthusiasm and courage … I was telling them that, in television, there is a certain entertainer talking about these things. Not only me, these are national campaigns. So, these gave me motivation, and took it more seriously."
A district health officer had a similar view: "Before the campaign we were mostly enforcing laws and rules. But after the campaign of Nyumba ni Choo, many people were so motivated to visit those places where Mrisho Mpoto prompted … Now you find the implementation of hand washing and sanitation as whole is now increased."
This transformation in public attitudes toward sanitation has delivered results at an unprecedented rate.
By the start of this year, surveys from Geopoll showed 97% of Tanzanians had heard of Nyumba Ni Choo. What's more, 44% of households said they built an improved toilet because they heard, saw, or were engaged by the campaign.
Calculations by the United Kingdom's Foreign, Commonwealth, and Development Office, which helped fund the programme, found the return on investment for Nyumba Ni Choo was more than 4.5 times the amount put in, generating $69.3 million of economic benefits across 7.2 million people.
As media becomes a richer and more diverse tapestry across Africa, opportunities for positive narratives like Nyumba Ni Choo to energize sustainable and inclusive development are truly compelling. Development actors need to become proficient in not only engaging these different streams of media but making them part of the process.
From health to climate, equality to economic transformation, a new narrative can be written — not by governments or development actors, but by people from all walks of life participating in the story they want for themselves.