Zanzibar agency, NMB ink Forodhani park agreement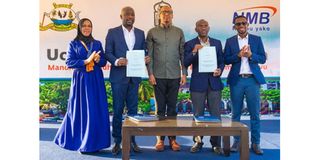 What you need to know:
The move, according to NMB Bank's head of retail banking, Mr Filbert Mponzi, is in line with the lender's efforts to support Zanzibar's blue economy model, which focuses on boosting tourism potential
Zanzibar. Stone Town Conservation and Development Authority has signed a Memorandum of Understanding (MoU) with NMB Bank Plc in an effort to sustainably maintain and manage the famous Forodhani park in Zanzibar.
Located along the main seawalk close to some of the most famous buildings of Stone Town (the House of Wonders and the Old Fort), the Forodhani Park offers a great night market for visitors who want to try some local food and just chill in the evenings or watch the island's amazing sunset.
Speaking during the MoU signing event at the Forodhani park at the weekend, NMB Bank's head of retail banking, Mr Filbert Mponzi, said the move was in line with the lender's efforts to support Zanzibar's blue economy model, which, among other things, puts emphasis on boosting the country's tourism potential.
Tourism contributes an estimated 27 percent to Zanzibar's GDP, around 80 percent of its foreign exchange earnings, and an estimated 60,000 jobs.
Under the MoU, NMB Bank Plc will be responsible for maintaining the park, which will enhance tourists' experiences while contributing to the revitalisation of the tourism industry.
"This MoU reiterates our bank's commitment to continue supporting the sustainable development of Zanzibar. Forodhani park is strategically located, which is why it attracts thousands of tourists. As a development partner, we feel duty bound to maintain this park to enable Zanzibar to remain the preferred tourist gateway," Mponzi said.
Mponzi said apart from maintaining the park, the bank will also ensure the provision of financial services to small-scale entrepreneurs operating at Forodhani so they can work easily as well as to potential tourists.
Forodhani Park Manager Amir Hamza said the decision to partner with NMB will help to transform the park and beautify it so it can become more attractive.
Zanzibar's Minister for Tourism and Heritage, Mr Simai Mohamed Said, said that though Zanzibar has 21 recreation parks, Forodhani Park is unique.
This is not the first time that NMB Bank Plc has been involved in developing tourism in Zanzibar. During the past two years, the bank has signed an MoU with the Revolutionary Government of Zanzibar whereby the two parties work together in three specific areas. These include destination marketing and Zanzibar's tourism position; diversifying tourism supply and experience facilitation; and empowering youth and the community.
Through its involvement with the Hotel Association of Zanzibar (HAZ), NMB Bank Plc is also key in offering financial products and services to investors and tourists.