High compensation costs to delay Arusha water project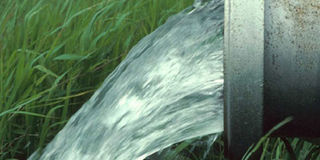 What you need to know:
Implementation of the multi-billion shilling water supply project underway in Arusha but the authorities are worried by the high compensation costs.

Arusha. High compensation costs may delay completion of a massive water supply project for Arusha city currently under implementation.
The project is financed by the African Development Bank (AfDB) through a $ 233.9million (approximately Sh520 billion) soft loan.
"One of the challenges we are facing is the compensation costs," the director general of Arusha Urban Water Supply Authority (Auwsa) Ruth Koya said yesterday.
The engineer was speaking during the laying of the foundation stone for the massive project by President John Pombe Magufuli on the outskirts of the city.
She did not say how much has been spent on compensation to people whose structures had to be demolished, but affirmed the costs have always been high in Arusha.
The other challenge, she said, is that large portions of land in the implementation sites had not been surveyed, something that must be done before hand.
The project is being implemented either in the densely populated suburbs of Arusha or the rugged terrains of the Mt Meru slopes, also posing engineering challenges.
Upon its completion, a total of 355 kilometres of pipelines for clean and safe water as well as sewage would have been laid around the city and its environs.
A total of 56 boreholes would be drilled, 10 water treatment tanks constructed and dozens of waste water ponds.
Once completed, the multibillion shilling project is expected to reduce water loss in the fast-expanding Arusha city to 25 per cent from the current 40 per cent.
Presently, the city is getting only about 44 million litres a day against the demand of 94 million litres. The target is to avail 200 million litres a day.
The business community in Arusha welcomed the project, saying it would boost economic activities of Arusha, the country's tourism hub.
"We have been waiting for this for years," remarked Walter Maeda, the chairman of the regional chapter of the Tanzania Chamber of Commerce, Industry and Agriculture (TCCIA).
He said the steady water supply would serve as a catalyst for economic activities and hoped Auwsa would address the chronic problem of water leakages in Arusha.
Water minister Prof. Makame Mbarawa said the water project in Arusha city was one of the 500 major water projects being implemented by the government across the country.
He said some Sh. 600.5bn and Sh. 96bn has been pledged by multi-lateral agencies for the water supply projects in the lake zone regions and Mwanga-Same-Korogwe respectively.
The Indian government, he added, had also promised to extend a Sh. 1.2 trillion for upgrading of water projects in 26 major towns in the country.