Tanzania's rights body now wants interpretation 'seditious content'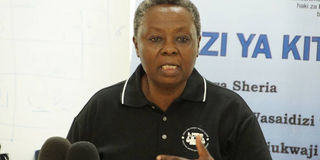 Dar es Salaam. The Legal and Human Rights Centre (LHRC) has, on Wednesday, January 3, appealed to international human rights organisation to intervene in what it termed as suppression of freedom of expression.
Briefing reporters in the city, LHRC executive director Helen Kijo-Bisimba said they will also join forces with other organisations to open a petition to get court interpretation of the word "seditious content".
She was speaking just a day after Tanzania Regulatory Authority (TCRA) imposed a Sh60 million fine to five television stations for airing what it termed seditious information contrary to the Broadcasting Act of 2005.
Dr Kijo-Bisimba said the government decision to fine the five television stations amounted to suppression of freedom of expression.
"We will write a letter to TCRA to ask them to organise a seminar for us and other stakeholders on how best to prepare content, which wouldn't violate the laws," said Dr Kijo-Bisimba.
She also revealed that LHRC has started a fundraising campaign to help media houses, which are affected by state ban.
LHRC also called for the government to respect the United Republic of Tanzania Constitution, which gives freedom of expression to its citizens.
"The government should be ready to be criticized and to be commended. It should use its citizen recommendations to bring about sustainable development," said Dr Kijo-Bisimba.
TCRA content committee chairman Joseph Mapunda named the five stations with their fines in brackets as Star TV (Sh7.5 million), Azam Two (Sh7.5 million), East Africa TV (Sh15 million), Channel 10 (Sh15 million) and ITV (Sh15 million).
The television stations are supposed to pay the fines within 30 days from yesterday (Tuesday, January 2) and if they not satisfied with the decision, they have 30 days to appeal to Fair Competition Commission.
The stations aired a Legal Human Rights Centre (LHRC) evaluation of November 26, 2017 ward by-election, according to Mr Mapunda.