A turbulent year for TZ opposition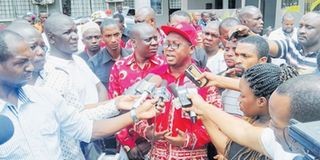 Dar es Salaam. The year 2018 will go down in the history of opposition parties in the country as among the toughest given the many shock waves it brought them--ranging from defections of elected leaders and losses experienced during by-elections.
The year was also characterized with numerous cases filed against opposition leaders, cadres and supporters at various courts across the country mostly charged with sedition. The year also saw the government tabling in Parliament a Bill to amend the Political Parties Act, 1992, a proposal that was not received well by the opposition arguing, that it was going to kill democracy in the country.
At the same time, political activities remained restricted across the country. Even elected leaders were only allowed to practice politics in their respective areas. During the year, the political wrangles within the second largest opposition party, CUF, continued to drive its vibrancy down.
The year also saw increased number of elected opposition leaders, mainly lawmakers and councillors, jumping ships. In the country's multiparty system history, 2018 saw many shocking defections.
Ten opposition MPs resigned from their parties in 2018 before joining the ruling CCM; seven of them from Chadema and three from CUF. Chadema MPs who defected to CCM and their constituencies in brackets are; Dr Godwin Mollel (Siha), Marwa Ryoba Chacha (Serengeti), James Ole Millya (Simanjiro) and Joseph Michael Mkundi (Ukerewe).
Others are Ms Pauline Philipo Gekul (Babati Urban), Mwita Mwikabe Waitara (Ukonga) and Julius Kalanga Laizer (Monduli).
Defected MPs from CUF include; Maulid Mtulia (Kinondoni), Zuberi Mohamed Kuchauka (Liwale) and Abdallah Mtolea (Temeke). The National Electoral Commission (Nec) records show that at least 240 councillorship by-elections were conducted in 2018 alone, most of them because of resignation of incumbent opposition councillors before joining the ruling CCM.
In another move that defined the political trend in the year, CCM picked almost all defectors to seek re-election in the same constituencies and wards. Some political commentators took this as proof that the ruling party was behind the resignations of most of these leaders, even as CCM strongly refuted the claims.
CCM insisted that these leaders made the decision on their own and after they were satisfied with the outstanding job done by President John Magufuli in bringing development.
Huge blow during by-elections
Nec organised 12 parliamentary by-elections in 2018, 10 because of defections of opposition MPs and two by-elections following the death of Buyungu Constituency MP Kasuku Samson Bilago and Korogwe Rural lawmaker Stephen Hillary Ngonyani alias Prof Majimarefu.
The country's electoral body also organised 240 councillorship by-elections in various wards in the country, almost all vacant positions contested were grabbed by CCM.
While CCM attributed its sweeping victories during the by-elections to party's acceptance among members and supporters, the opposition, especially Chadema and ACT Wazalendo, decried foul play and rampant irregularities, claiming further that the ruling party used state organs to rig elections. The two opposition parties were, in the year, forced to boycott participation in by-elections pressing for major reforms to contain irregularities recorded during the previous by-elections.
Cases against opposition leaders
Opposition leaders were very busy in 2018 battling cases in various courts. The cases include the one facing Chadema top leaders--chairman Freeman Mbowe, secretary general Vincent Mashinji, deputy secretary general (Mainland) John Mnyika and deputy secretary general (Zanzibar) Salumu Mwalimu.
Others are Iringa MP Peter Msigwa, Tarime Urban lawmaker Esther Matiko, Tarime Rural MP John Heche and party's women wing chairperson and Kawe lawmaker Halima Mdee.
They were arraigned at the Kisutu Resident Magistrate's Court on March 29, 2018 facing incitement charges claimed to be committed on February 16, at the Buibui Grounds and Mkwajuni in Kinondoni District.
The same case forced Mr Mbowe and Ms Matiko to spend Christmas and New Year festive in remand prison after their bail was invalidated by the court for what was said as violating its conditions. In another case, ACT Wazalendo party leader Zitto Kabwe was also at the same court on November 2, 2018 over his remarks on clashes between citizens and police in Kigoma Region that he made during a press conference at party's headquarters in Kijitonyama.
The outspoken politician who doubles as Kigoma Urban legislator was charged with three incitement counts including an intent to sow hatred among citizens and police through words he uttered during a press conference. In the second count, Mr Kabwe is charged with telling a press conference that many people had been killed at Mpeta Village, in spite of the fact that Inspector General of Police (IGP) Simon Sirro had arrived to the scene and law enforcers were yet to release information.
In the third count, Mr Kabwe is accused of saying that reports they had received from Uvinza were intimidating because they were being told that over 100 people of Wanyantuzu ethnic group had been shot dead.
A series of cases saw the Mbeya Urban MP Joseph Mbilinyi alias Sugu and party's secretary in the Southern Highlands Emmanuel Masonga being convicted for five months jail term after being found guilty of using abusive language against President Magufuli. The duo were released on May 10 this year after spending 73 days at the Ruanda Prison where they were detained.
Reports said they were released following President Magufuli's pardon when the country was celebrating the 54th Union anniversary between Tanganyika and Zanzibar.
Arrest of opposition leaders, cadres
Several opposition leaders, cadres have been arrested in 2018 including Chadema deputy secretary general (Zanzibar) Salumu Mwalimu who was arrested in Mufindi District, Iringa Region. He was arrested on December 16, 2018 after he had just arrived from the Nyasa Zone where he had toured on political activities and that he was slated to attend the party's internal meeting in Iringa.
On August 1, Kawe MP Halima Mdee and 13 party cadres were arrested at the Tanganyika Packers grounds. The MP had gone there to seek details on reasons for the arrest of 13 party cadres. Earlier, Chadema cadres were part of citizens who had met Ms Mdee at the area in order to explain their grievances and challenges facing them, but police claimed the MP and opposition members were nabbed over unauthorized assembly.
Dar es Salaam City Council (DCC) mayor Isaya Mwita was not spared on the trend of arrests after falling in the hands of law enforcers on December 01, 2018 allegedly for leading unlawful demonstrations towards the Mwalimu Nyerere Bridge.
The Chadema councillor for the Kigamboni Ward was expected to launch a borehole in the area, but police insisted the marching and the activity were unlawful claiming the well was drilled by the government and that Mr Mwita intended to get political mileage out of it.
Plan to change Political Parties Act
A Bill to amend the 1992 Political Parties Act was tabled in Parliament, aimed at giving powers to the registrar of political parties to suspend the provision of government subventions to political parties under certain circumstances for up to six months. The registrar can also order specialised financial audit of any political party.
The Bill also restricts political parties from operating in the manner and style of activism; empowers the registrar to deregister any political party depending on how it conducts itself.
Furthermore, the Bill proposes a minimum of five years jail term – and a maximum of 20 years – for political leaders or party members involved in militia-type of activities.
If the Bill comes into law, it will empower the registrar of political parties to approve or disapprove the dissemination of civic education, and capacity-building programmes – for which the organizers are required to seek prior permission of the parties.
The opposition and human rights defenders think the amendment is intended to kill the opposition and turn the country into a single party state, something that was strongly refuted by government authorities.
Restriction on political activities
Restrictions on political activities continued in 2018 except to elected leaders in their constituencies and wards. The opposition national leaders have been denied the right to reach party members and supporters at the grassroots level.
Complaints have been on the rise that while the opposition are denied pre-requisite political space, their CCM counterparts are visiting members for politicking without restrictions.