DC orders arrest of resident for allegedly slandering president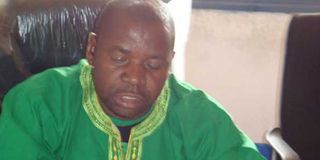 Mbulu. The Mbulu District Commissioner in Manyara Region, Mr Chelestino Mofuga, has directed the Officer Commanding District (OCD) to arrest and remand Mr Eliud Petro, 50, for 48 hours for allegedly ridiculing the President.
Thereafter, charges should be filed against the resident.
Mr Mofuga gave the directive to police on Tuesday January 23.
It is alleged that Mr Petro uttered a statement that President Magufuli was also an accused person without clarifying as to what offence the Head of State had been accused of.
Earlier, Mr Petro was arrested while in the company of four accomplices for allegedly committing the offence of invading and cultivating a farm belonging to Endamasak Primary School.
They are also accused of instigating residents through the use of traditional laws.
"Mr Mofunga said members of the society must have respect to leaders in power and the action he took should serve as a lesson to other people.