Police: Too early to determine nature of explosion at IMMMA House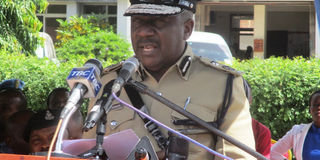 Dar es Salaam. Police on Saturday morning said that they are still investigating the nature of the blast that rocked a prominent city law firm in an overnight attack.
The outgoing acting commander of the Dar es Salaam Special Police Zone Mr Lucas Mkondya told The Citizen in a telephone interview on Saturday that it was too early to determine the nature of explosion at IMMMA House.
"We (police) are investigating the matter. We have already cordoned the premises," said commander Mkondya adding "once the investigation is complete we will be in a position to say what caused the explosion."
He said so far no one who is under arrest in relation to the incident.
A partner of the law firm, Sadock Magai, said the offices have been damaged but nothing was stolen. 
"Let's leave it to police to conduct their investigations," said advocate Magai.
IMMMA House, located in Upanga along the United Nations Road, was hit by an explosion at around 2am on Saturday. Fatma Karume, a prominent advocate and daughter of former Zanzibar President Amani Abeid Karume is one of the firm's partners.