TCRA warns social media operators, govt officials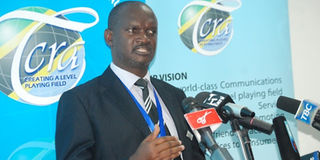 Summary
Tanzania Communications Regulatory Authority (TCRA) has warned that those operating unregistered social media news outlets will be arraigned. The communications regulatory body, through its director general, Mr James Kilaba, has also warned government officials from disseminating classified documents in social media

Arusha. The Tanzania Communications Regulatory Authority (TCRA) has warned social media owners to stop operating without registration from authorities.
The authority also warned government officers from disseminating classified documents in social media.
TCRA director general James Kilaba issued the warning on Monday, September 24, during an exclusive interview with The Citizen, noting that the authority was aware of social media owners operating without registration.
"They should seek registration and observe the laws. They should avoid publishing information which abuse ethics of the citizens. We closely following them and the government will not hesitate to take legal action against them," he said.
For government officials, he said they engage in disseminating confidential government documents in social media, warning that they will be taken accountable.
"We are following up those publishing such documents, they will be unveiled and arrested for the law to take its course," he said.
He said the authority was executing its responsibilities within the country's legal framework and criminals will be dealt regardless of their social status, positions and popularity.
However, he refuted claims that the authority had been taking action to government critics, noting that TCRA has been acting against every Tanzanian walking against the law.
"No person violating the law will be spared. We have a record of charging fines to the CCM owned social media platform that was operating without registration," he said.