Trade disputes cloud EAC heads of state summit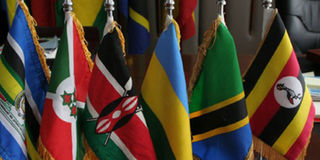 What you need to know:
Heads of state gather in Arusha today as conflict pitting Tanzania, Kenya and Uganda, the key East African Community members, escalates

Arusha. The East African Community (EAC) leaders meet here today for a summit which comes amid a fresh round of trade disputes among the key member states.
Partner states continue to introduce tariff and non-tariff barriers that are hindering intra-regional trade and putting integration at risk.
A report presented to one of the pre-summit meetings indicated that the total intra-EAC investments decreased by 22.3 per cent to $197 million in 2017 from $254.1 million in 2016.
The total value of intra-EAC investments into Kenya amounted to $25.2 million while investments to Tanzania, Rwanda and Uganda amounted to $66.6 million, $33.8 million and $71.3 million in 2017, respectively.
Non-tarrif barriers, according to the report,continue to hamper the regional trade despite all the partner states having assented the EAC Elimination of NTBs Act, 2017.
Other factors negatively impacting on intra-regional trade include failure to external preferential treatment on manufactured products by some partner states.
Concerns are growing over recent trade disputes pitting Tanzania, Kenya and Uganda.
Uganda in September petitioned Tanzania over dipping trade relations on a number of issues that have negatively impacted trade between the two countries.
Tanzania is said to have snubbed Uganda's invitation for bilateral talks to resolve the disputes. Uganda's Trade minister was reported yesterday as planning a visit to Tanzania to secure a face-to-face meeting .
"They have not yet responded but we are planning on going there ourselves; we even engaged our embassy to talk to them but still no positive response," the Daily Monitor quoted Mr Emmanuel Atwine, the senior commercial officer Ministry of trade.
Trade relations between Nairobi and Dar es Salaam have appeared to sour in recent years because of tariff and non-tariff barriers.
The two squabbling neighbours are yet to fully resolve long-running trade disputes that have seen blockage of goods at the Namanga border despite being signatories to the EAC Common Market Protocol, which allows free movement of goods, services, capital and labour within the bloc.
Some of the past spats include the ban by Kenya on liquefied petroleum gas (LPG) from Tanzania citing consumer safety concerns, a move which saw Dar retaliate by blocking Kenyan milk and milk products, and cigarettes.
Earlier this year, Tanzania blocked duty-free entry of Kenyan sugar confectionery, juice, ice cream and chewing gum over suspicion of use of zero-rated industrial sugar, which tilted competition in favour of Kenyan firms. The restricted entry was also extended to textiles made by firms in the Export Promotion Zones which enjoy tax incentives.
The EAC heads of state are also meeting amid a budgetary funding crisis for the regional body. Tanzania, Rwanda, Burundi and Uganda have so far contributed less than 35 per cent of financial commitments.
The cash crunch saw the East African Legislative Assembly (Eala) cancel its sitting, which was due to be held in Zanzibar this week.
Another headache for the leaders is Burundi, whose president Pierre Nkurunziza will be snubbing the summit for umpteenth time.